J&K Explore - Sage Cafe in Chapel Hill, NC
Jami Pearson
Customer Relations Representative




 




 




 



Fresh, delicious and flavorful – Sage Café, located in Chapel Hill, NC and only 12 miles from Briar Chapel, gets two thumbs up from Kathy and me. With a 100% vegetarian menu, I was curious as to how this restaurant was able to compete with its meat-cooking competitors. However, after each taking a bite of our meal, it all made perfect sense.
When it came time to order, I went with the feta-spinach wrap, a little piece of heaven containing grilled tempeh, feta cheese, spinach, sautéed onion, tomato, portabella mushrooms with an herb-vinaigrette. Warm, gooey and wonderful, this wrap blew me away. It has been my experience in the past that vegetarian-friendly wraps/sandwiches often don't quite measure up to those containing meat. A lot of restaurants have the tendency to stuff them solely with vegetables, and I don't know about you, but I need something more than rabbit food to keep me full. As such, you can imagine my joy when I discovered that my meal had actual substance. Delicious, kept-me-full-for-hours, left me craving more, substance. Hallelujah!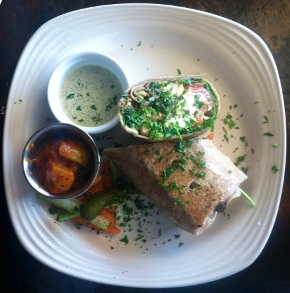 Kathy was craving something a bit lighter, so she opted for the organic mixed green salad. It had all the traditional fixings that you'd expect, but it was the house creamy dill dressing that took it over the edge. Both smitten with this borderline magical sauce, we proceeded to name off all the things it would be good on. Needless to say, the word "everything" was thrown out there (trust us, when you try this sauce you'll understand).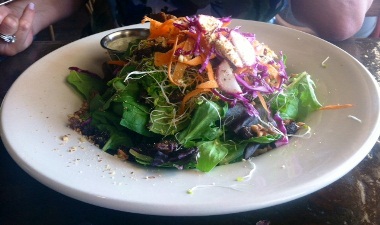 Kathy and I both felt it imperative to mention the lemonade we ordered with our meal. Holy moly, it could be bottled and sold with the slogan "spa in a glass." Not quite able to pinpoint what ingredients were combined to make up its unique taste, we were lucky that our waitress was willing to help. Are you ready for it? Rose water and orange blossom.  These two ingredients took what I can assume was pretty good lemonade and made it phenomenal. Kathy and I agreed that we will be back for more.
Overall, our experience here was fantastic: the service, food and overall atmosphere of the place were lovely. Sage Café, thanks for a great lunch!
Sage Café
1129 Weaver Dairy Road
Chapel Hill, NC  27514
919-968-9266
Recent Posts
---
Tags
---
Archive
2018

2017

2016

2015

2014

2013

2012

2011

2010