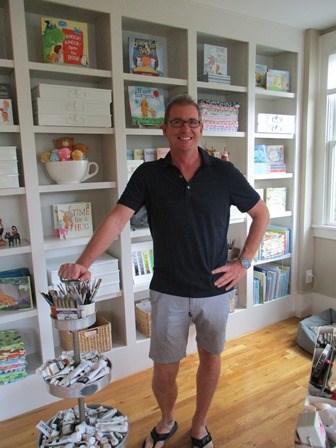 Know Your Neighbor - David Walker
Jami Pearson
Marketing & Event Coordinator
Fueled by a lifelong passion for drawing and painting, David Walker took a job as an art director at Hallmark in Kansas City, Missouri after graduating from the University of Kansas. After gaining some real-world experience, David decided to embark on a different path and began licensing his artwork.
| | |
| --- | --- |
| Flash forward a few years, with David now living in Briar Chapel. As a freelance artist, he can work from anywhere; naturally, he was drawn to oh-so-beautiful Chapel Hill and, in 2011, decided it was exactly the place he wanted to call home (alongside his handsome dog Gus and two daughters). With the entire bottom floor of his townhome a dedicated in-home studio, David's days are spent working on projects such as children's book illustrations, greeting cards, fabric design, and oil paintings. Notably, his latest venture was illustrating Bob Dylan's third children's book, "If Not For You." And yes, I'm talking about THE Bob Dylan. |   |
In his downtime, David enjoys spending time by the pool and on the 24 miles of trails that wind through Briar Chapel. The fact that, in a matter of minutes, he can be completely submersed in nature with no homes in site is invaluable. On the flip side, he appreciates all the activities and front-porch living that make up the community. David describes the neighborhood as "having a life of its own," and we couldn't agree more. All one has to do is take a drive through the community to see kids playing in their front yards, neighbors chatting over wine, and impromptu get-togethers in the parks.
Tons of Briar Chapel residents have already befriended David, as he often works with his front door (and entrance to his studio) open. His workspace is so gorgeous it practically beckons you to take a peek inside. In fact, a lot of our pint-sized residents frequently do just that. If you haven't had a chance to meet David, don't worry: he is planning an in-home art show the first weekend in November to showcase his latest oil paintings. Stay tuned for details!