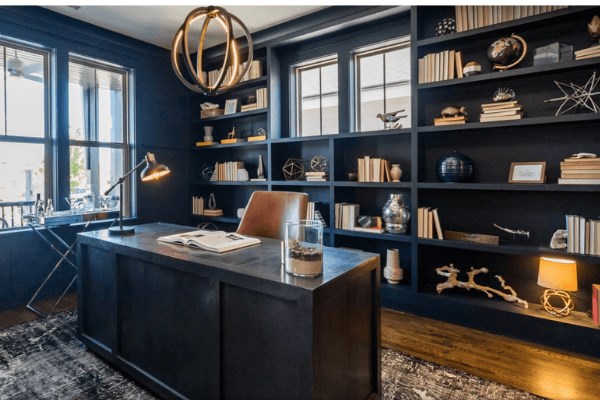 Creating a Productive Home Office
Working from home these days? It's tempting to throw in a load of laundry while juggling the kids' lunches … and a conference call. And don't the dogs always seem to need something? We understand the challenges and benefits of working from home; here are our top tips to curate an office space and to structure your work time for maximum productivity.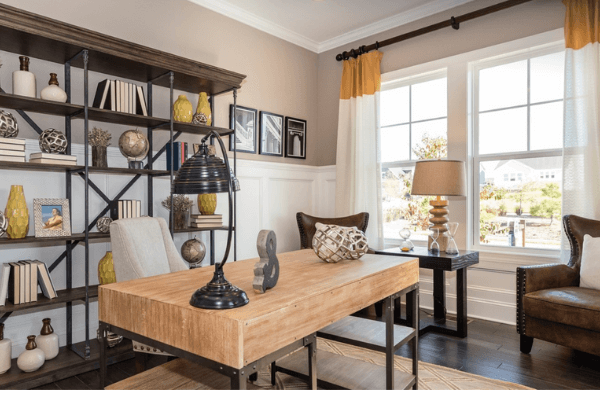 Well-lit office near windows in The Formosa model home by David Weekley Homes 
at Briar Chapel
Location, Location, Location
Tempting as it may be to curl up on the living room sofa with Netflix while you work, your home office needs to be an "official," dedicated space that delineates professional time from personal time. For maximum productivity, choose a separate area, such as an office or corner room, that is secluded from family noise and distractions. (A closeable door can help!) Opt for spaces near windows, as natural light stimulates creativity and elevates mood. But say bye-bye to televisions in your new work cove to minimize distractions.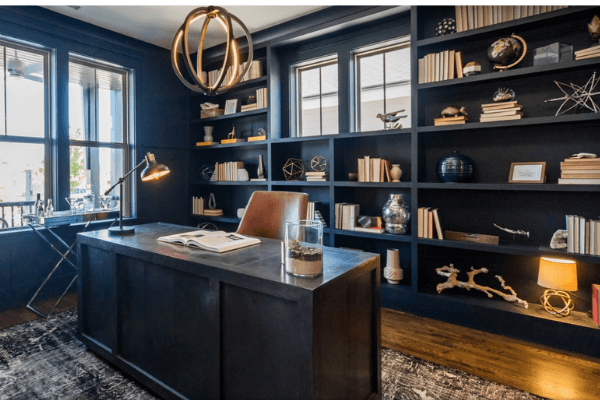 Expansive shelving in the Asbhurn model home by Saussy Burbank in Briar Chapel
Get Up the Right Set Up
Treat your home office as if it was your professional corporate office. Invest in good technology, from quality headphones or speakers for conference calls to software. Keep needed office supplies within reach, and always, always include a comfortable chair (or standing desk) to support good posture. Include adequate shelving for your supplies or books, such as found in the Asbhurn model home by Saussy Burbank in Briar Chapel.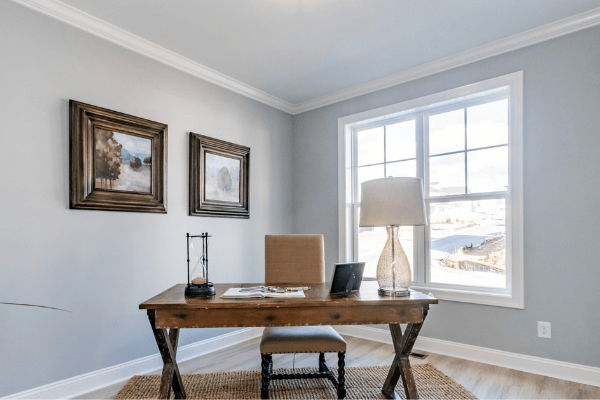 A clean, minimalist aesthetic that lends itself to creative thinking and concentration, found in The Oberlin model home by Homes By Dickerson
Set a Schedule
Once you learned your most productive time of the day, set a start and end time to every workday. Resist the "work creep" where your professional time bleeds into your family moments over dinner or your kids' movie night. In addition, be sure to schedule and take regular breaks. Nab a healthy snack, do some quick at-home exercises or get out and walk. Briar Chapel has 20+ parks and 20+ miles of trails on which to stroll.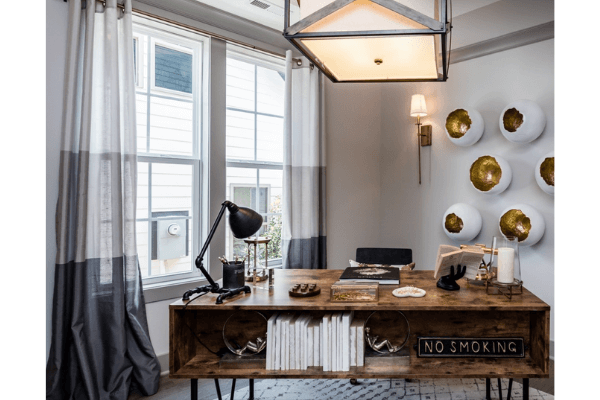 A personal touch in this office found in Garman Homes' Accent model, perfect for keeping a welcoming environment … and keeping your schedule
Elaborate on Your Expectations
Let your family and children (and even affectionate pets) know your work schedule and planned break times as well as the rules for communicating with you during the workday. Do you have an open-door policy? Are there specific times when you will come out and address questions or issues? Whatever your preference, ensure that your whole "family team" is on board to ensure a successful at-home office.


The Tabula model home at Encore by David Weekley Homes in Briar Chapel touts a cozy space perfect to maintain concentration.
Be Present and Engaged
It's tempting to multi-task, especially while at home – folding laundry while on a conference call or feeding the kiddos while on "mute." The most effective use of your time is to fully commit to each task at hand, whether a Skype presentation or an evening Uno game with the family. This approach is not only far more productive but also yields meaningful experiences. After work is over, enjoy the family living or playroom to its fullest!
Looking for more tips for how to spend quality family time while at home? We've got you covered.