Tinkergarten: Playing Is Learning
Hearken back to those warm, sunny afternoons after school – lobbing baseballs in the backyard, climbing gnarled oaks, swinging carefree at the park or wandering winding, woodsy trails. Those moments of unfettered curiosity and outdoor play were the hallmark of summer.
Research shows that some of our best learning happens during these golden moments, and Heather Murphy -- Briar Chapel resident -- couldn't ignore the opportunity to help her children's learning. Spurred by her background in education, Heather launched Chapel Hill's Tinkergarten program using the community's vibrant parks and trails as her "classroom."
The Great Outdoors: The Great Teacher.
Tinkergarten, a play-based learning program for children ages 18 months to eight years, combines outdoor activities with guided lessons to develop core capabilities, such as empathy, collaboration, creativity and persistence. Children are encouraged to investigate and explore a scene or activity, utilizing their senses to experiment and creatively problem solve.
"For children, everything in nature is fascinating," said Heather. "The physical freedom of open green spaces stimulates a natural drive to learn more than memorizing in a rote classroom setting."
For example, class kick offs with a scavenger hunt for an item in nature (featured in a later activity), followed by group songs and movements to build group interaction. The day's main activity might include hanging pulleys from trees and experimenting with weighted objects, playing with bubble soap with wands and funnels or digging into pots of rice to develop tactile senses.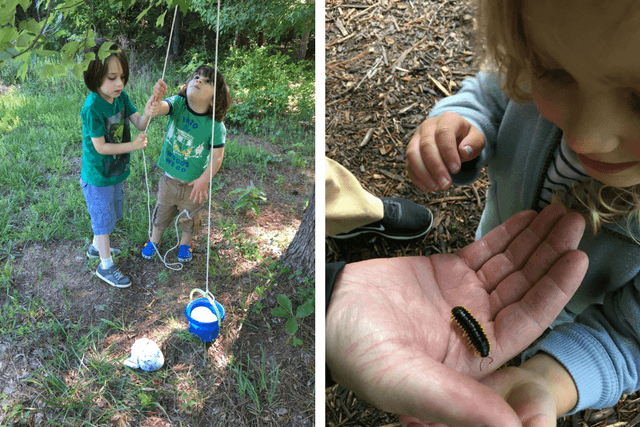 A Family Affair
Tinkergarten isn't just for wee ones. Parents attend classes to learn how to support their child's learning.
"We're in an age where parents can overly monitor their child's play by not allowing them the freedom to get messy and follow their inquisitiveness," said Heather. "Not only are the parents there to build relationships with their children but also to learn to encourage exploration."
The love of the outdoors and a spirit for exploration bind these families together into their own "community within a community," as Heather says. Likeminded families meet weekly for Tinkergarten to remain active, escape electronic devices and enjoying the outdoors.
"It's the first time he's ever asked to keep taking a class once it was over."
—Molly, mother of a four-year old
Briar Chapel's Tinkergarten
A national movement founded in New York, Tinkergarten classes have taken root in 45 states across the U.S., encouraging more than 53,000 children and families to explore the outdoors to date. Tinkergarten at Briar Chapel – the only program in Chapel Hill – welcomes children ages 18 months to five years of age from both Chapel Hill and the surrounding area.
Each eight-week season consists of weekly classes lasting one hour and fifteen minutes and brimming with exciting, outdoor activities. The summer 2017 season kicks off in late June, and in preparation, Heather invites families to join her for one of four free trial classes to experience Tinkergarten.
For more information, contact:
Heather Murphy
heather.murphy@tinkergarten.com
‪919-274-7933
‪http://tinkergarten.com/leaders/heather.murphy‪‬