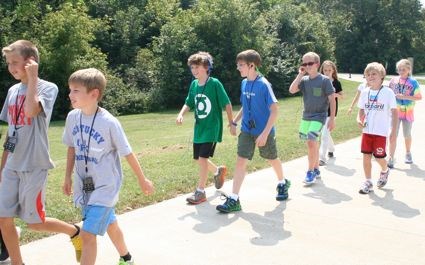 The Future of Learning
Cali Buhrman
Customer Relations
At Briar Chapel, we believe healthy living and better education starts with our youth.  That is exactly why we chose "The Walking Classroom" to be our 2014 educational focus, donating almost 170 mp3 audio players and teacher's guides to Chatham County schools. While offered to all four Chatham County schools that serve the Briar Chapel Community, Perry Harrison Elementary and Woods Charter accepted the donation and agreed to implement the new systems.
The Walking Classroom was developed by fifth grade teacher, Laura Fenn, from Chapel Hill, NC. She noticed that her students were much more engaged in classroom material after physical activity and being outdoors. Mrs. Fenn created a series of podcasts, lasting about 15 minutes each, that students could listen to while they walked. This format allows students to get extra physical activity outdoors, without sacrificing learning. Once the students get back inside the classroom, they take a short quiz on the material to test comprehension, make sure they understand the lesson, and ask any questions.
Teachers and internal evaluators of the program are already seeing improvement in test scores, comprehension levels, and overall behavior. Students are seeing a difference, too—excited for their walks every week, and it allows them the chance to let go of any anxiety they may have. Parents have been very supportive of the program as well, seeing the improvements and knowing that their children are getting more exercise.  
We know that community engagement extends far beyond Briar Chapel, and we are so excited to be able to partner with Chatham County schools to introduce this innovative way of teaching. With two schools on-site, Woods Charter School and Margaret B. Pollard Middle School, it is imperative that we keep supporting our children so that we can look forward to a brighter (and healthier!)  future.
This blog was adapted from Time Warner Cable news in Charlotte, NC.