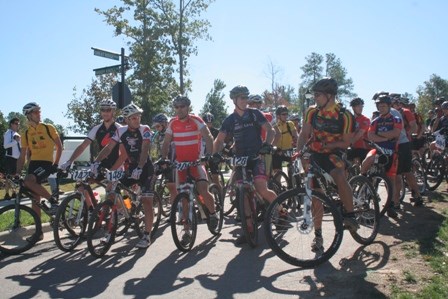 Celebrate National Trail Day June 4th!
by David Housekeeper
Triangle Off road Cyclists
For those of you following the progress of the fabulous trails here at Briar Chapel, you may already be aware of the non-profit organization we are working with to develop and build the 24 miles of hiking and biking adventure that will be found on site. For those of you just learning about the trails and how they came to be, we thought we would take a moment to highlight the Triangle Off-Road Cyclists (TORC) in this blog today. As well, this weekend (June 4th) we will celebrate National Trail Day at Briar Chapel so what better time to do so!
TORC is a volunteer organization dedicated to ensuring the future of mountain biking in the Triangle area of North Carolina through the promotion of responsible riding, establishment and maintenance of mountain biking trails, and preservation of North Carolina's natural resources.
TORC extends a warm welcome to everybody who is interested in mountain biking. We offer group rides, clinics and events to accommodate people with different skill levels: beginner, intermediate, and advanced.
In cooperation with our partners and land managers, TORC members help maintain some of the premier trails in the Triangle area and join together in advocating for new trails. As an extension of the Southern Off-Road Bicycle Association (SORBA), TORC also assists with rides, festivals, and the advancement of off-road cycling throughout theSoutheastern United States.
A little insight into trail building: TORC is the IMBA club chapter for the Triangle area. IMBA's motto is, 'Promoting, Building, Maintaining.' The 'building' of trails is central to the purpose of an IMBA club chapter. New trail development is important to the preservation of open space and encouraging a healthy lifestyle for bikers of all ages. As dedicated stewards of the environment, TORC employs IMBA's trail building practices. These trail building practices ensure that our trails are sustainable and challenging for all user groups. TORC continuously reaches out to county, state, federal and private land owners\stewards for the purpose of building more trails. TORC forms a relationship with these land stewards to provide IMBA spec sustainable trails in exchange for mountain biker's use. TORC has the experience and resources to act in a supportive role to help land stewards in their goal to provide mountain bike trails to the needs of a health oriented nature loving community.  An important facet of this agreement is that TORC will patrol the trails to assess for safety and sustainability. As well as provide group rides and ride education.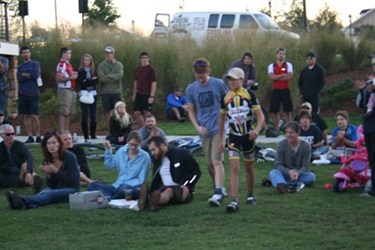 Why trails are important(Love this stuff!)

Better Health. Trails support an active lifestyle which in turn, improves health. Physical activity helps prevent heart disease, diabetes, osteoporosis, obesity, colon cancer and depression. An increase in physical activity can save millions in health care spending. Physical activity also reduces stress and improves mental health.
Trails are designed for the recreational activities people most enjoy, including walking, cycling and jogging. They are readily accessible to most people and inexpensive to use. They are found in a variety of attractive settings and can provide moderate activity or challenging outdoor adventure. They can provide physical activity for the widest range of people, including persons with disabilities, children and youth, the elderly and others who are known to be less physically active.
Strong People, Strong Economy. Trails attract tourists and prospective home buyers to Triangle communities. Tourism creates jobs and puts money into local economies. Many trail users buy goods such as, mountain bicycles, jogging equipment and hiking boots. Trail user's dollars are being spent on local restaurants, accommodations, retail purchases and day trips.
Trails increase property values. A home near a trail can offer a pleasing view, quieter streets, recreational opportunities and a chance to get in touch with nature.
Strong Communities. Trails strengthen the social fabric. Volunteering is one measure of the vitality of a society. People working together, giving their time freely, and sharing in socially valuable, meaningful activities- these are practices that create strong communities.
Trails continue to provide abundant opportunities for volunteering in the community.
Many trails cross private lands, with access freely given by property owners who are willing to share their property with trail users. Some property owners have even donated their land to trail organizations.
Trail construction and maintenance builds and solidifies partnerships among community groups, businesses, property owners, local government, community residents and trail club members.
National Trail's Day at Briar Chapel: We have planned a variety of activities - whether walking or biking! First, TORC is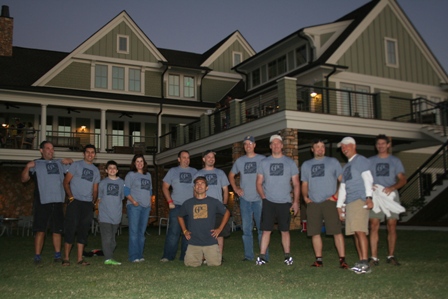 anxious to talk with as many of the Briar Chapel residents as possible and encourages them to participate in the event. TORC hopes to bridge that gap between the club and the residents to share valuable information about the trails and help the residents become familiar with certain key members of the club and feel comfortable volunteering, partnering and communicating with the club concerning the existing and future trails, activities and education. We will offer guided bike rides as well as educational information about some of the trail sections. We will also point out existing examples of sustainable trail design and some areas flagged for improvement. Discussing how improvements will be carried out through IMBA guidelines will be helpful for those folks not fully familiar with the intricacies of trail building. We hope this will serve as a fun, informative and active day on the trails! 
Second, we hope to provide a local event that celebrates the National recognition of the importance of trails. We welcome the many Triangle community mountain bikers and other trail users out to the event to provide rides, familiarity of the trails and education. And last, but not least food will be provided by The Granary at Fearrington House as they sample new menu items and Layton's BBQ - good old fashioned NC barbecue. Fullsteam Brewery will also be serving up some of their local made beer - should be a fun time for all. Call Briar Chapel at 919.951.0700 if you would like to attend.