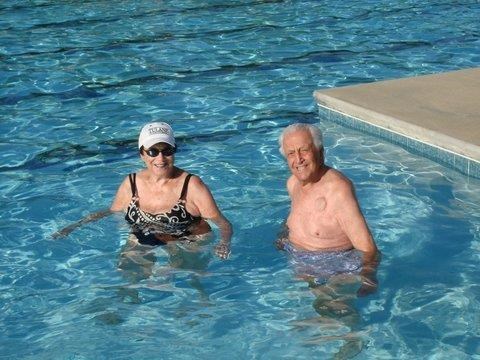 Know Your Neighbor - Nick & Tony
Tina Fiole
Customer Relations
Anyone who "Swims at Their Own Risk" during the specially allotted hours, one of Briar Chapel's best kept secrets, knows this weeks featured "Know Your Neighbor(s)", Tony ( 86) and Nick (93) Stashko. This couple has lived in the community the last 4.5 years.  When I asked Nick recently what he liked best about Briar Chapel, he said his "water walking group" at the pool, which takes place early in the morning.  Tony, his wife, is always right beside him, too, joining in on the fun! If you talk to anyone in this group, they'll speak to the diversity of residents who participate. Tony and Nick are no exception - They are European and have quite a collection of international friends who are residents!  They are so grateful to be living here at Briar Chapel.  In Nick's words, "we couldn't wish for a better life here." They feel secure and have everything they need, which wasn't always the case –You see, Nick is a Holocaust survivor.
Nick's story of capture began before he met Tony, when he was a "rebel" college student studying engineering in the Ukraine. Working for an underground movement, he helped print articles that spoke out against the Nazi regime in the Ukraine.  He knew what the penalty was for such resistance, but felt compelled to keep trying.  It took 1 1/2 years for Nick and his friends to get caught, arrested, and jailed by German soldiers; over the next two and a half years, he spent time in six different concentration camps, the longest in Auschwitz.  There were numerous times Nick thought he wouldn't make it.  When he would try and pray, fear would paralyze him and he found that he could only say the first few lines of the prayers that he knew so well.  But, symbolically, his first hope of being released from Ebensee happened on Good Friday when the prisoners began to see American planes flying overhead; he was released on Easter Sunday.    
Many years, college, marriage, and three kids later, Nick and Tony found themselves living in Chicago. After the passing of their daughter, they decided to move closer to one of their sons, who lived in Chapel Hill. Nick wasn't keen on the idea at first, so Tony had to do all of the leg-work. She met with a Realtor who showed her several different neighborhoods, the last of which was Briar Chapel. It was love at first site for Tony when they drove along the parkway leading into the community, which she considers "the long driveway to her home." Now, she and Nick love calling the community home.
One of the last words Tony offered at the end of the interview, were "At the end of my life, it makes me so happy [to be here]."  They are surrounded by so many neighbors they now consider close friends, who visit often, and truly enrich their lives.