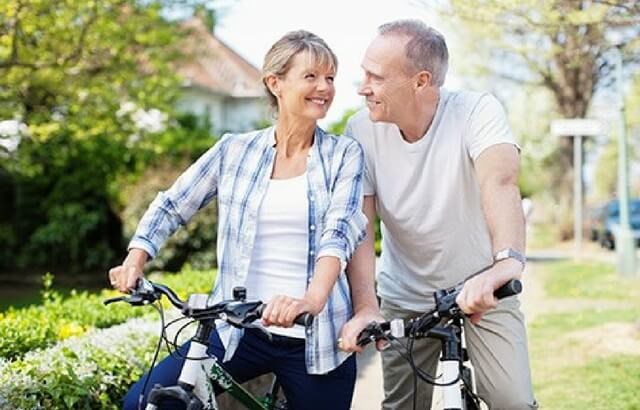 What to Know About 55-Plus Communities
We're excited that Encore, our 55+ living section, was featured in NewHomeSourceEncore! Check out excerpts from the article below!
What to Know About 55-Plus Communities
Wondering what there is to know about active adult communities? We've got the scoop.
For those homeshoppers who may be nearing the age of retirement, the idea of living in a 55-plus community might seem appealing.

With more builders offering up this type of new-home community, there are certainly plenty of options. But an active adult community, alternatively referred to as 55-plus, will have its differences when compared to your other neighborhoods — one of those being age limitations.

So, before you buy into one near you, here are the key things the experts think you'll want to know about living in an active adult community:

Age Requirements

Of course, the first thing you'll want to consider are those age restrictions. While many active adult communities will have age limits set at 55 years, others may be higher, lower or have none at all.

"In Briar Chapel's Encore 55+ living segment, requirements include restrictions on age of residents," says Shannon McSwiney, marketing director for Newland Communities. "For example, Encore prohibits residents under the age of 30, unless evidence is provided that the individual is necessary to the health and well-being of the homeowners; in addition, at least one of the homeowners must be over the age of 55 years."

Other builder and developers who target active adults, such as Epcon Communities, don't include age limits at all.

"Residents come from a variety of life stages," says Rob Krohn, marketing manager with Epcon Communities. "And with accessible features built in, our communities are ready for people planning ahead to age in place."

Other Rules and Regulations

To monitor age requirements and other rules and regulations, most active adult communities will have a board in place to keep resident wellbeing and happiness at the forefront.

"Active adult communities usually have a group or association that collectively determines the bylaws and structure for those who are living there," says Jim Harrington, director of development at Baywoods of Annapolis, a continuing care retirement community along the Chesapeake Bay.

Below is a list of common restrictions or bylaws that are commonly in place in active adult communities across the nation:
Restrictions on the maximum number of occupants in the dwelling.
Access to community amenities to non-residents.
Restrictions on home customizations such as paint colors, décor and landscaping.
Pet restrictions. 
Rules on regular visitations and overnight stays from visitors under the age of 18.
While this could raise a flag regarding visitation from grandkids and other loved ones, many communities have different definitions on what qualifies as a "regular" visitation. For further information on what's allowed in the 55-plus community near you, it's best to reach out to a community representative.

"Baywoods has guest accommodations on site for visiting family members and relatives as needed," adds Harrington. "We are a 62 years-and-older community where family members are always encouraged to use our amenities with their parents or grandparents."

Lifestyle Evaluations

Finally, you'll want to consider if the active adult lifestyle truly fits your needs at this stage in your life.

"First and foremost, consider the activities you enjoy as well as those you hope to continue thought the next years," suggests McSwiney. "We include an amenity center and pool reserved for the residents of Encore."

Other popular amenities you'll want to check out in the 55+ communities near you include fitness centers, tennis and pickle ball courts, walking trails and large community centers where community clubs, classes and events take place.

"One of the key factors that influences your quality of life is a welcoming sense of community," adds McSwiney. "Look for a neighborhood with a vibrant social calendar of on-site events and a plethora of activities to fill your free time."

Are you planning to spend retirement traveling the world or maybe you're getting tired of mowing the lawn every week? Many 55+ communities offer up a maintenance-free lifestyle that could be perfect for you.

"There are differing levels of maintenance that residents choose to adopt when moving into an age-qualified segment," says McSwiney. "Typically, they will provide lawn care and outdoor maintenance for these residents."

Health is also an important factor to keep in mind, which could ultimately separate you from an active adult community to a continuing care facility.

"Consider your needs and what is available in your community as you age in place," says Harrington. "A continuing care community is designed to help with future needs and is supposed to be the last move one will ever need to make."

In addition to the community and surrounding factors regarding your health, put good thought into the home itself as well if you plan to age in place.

"When it comes to floor plans, consider the long-term time you'll be spending in your home," McSwiney advises. "Opt for single-level living that avoids stairs, offers easily accessible storage and provides thoughtful features such as walk-in showers and low appliances."

Keep these key considerations in mind as you seek advice from builders and active adult experts in your area. With the right plan in place, you'll find the perfect community where you can enjoy retirement to its fullest.
Drew Knight is the Digital Content Associate for Builders Digital Experience (BDX). You can find him online at
LinkedIn
.