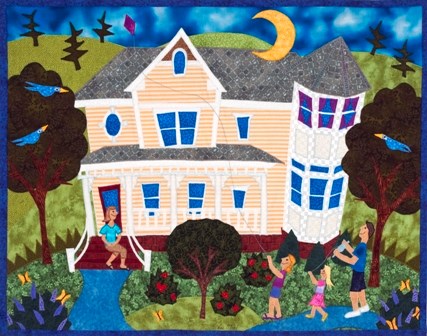 Art of Living Featured Artist; Elaine O'Neil
by Shannon McSwiney
Marketing Manager, Newland Communities
We are fortunate to have inspirational, phenomenal artists spread far and wide throughout North Carolina – but the artists that reside here in our own backyard are a tremendous treasure to our local community. We are pleased to feature Chapel Hill textile artist, Elaine O'Neil in our upcoming satellite gallery installation at Briar Chapel. As many of the fabulous artists we've been fortunate to meet and get to know, Elaine's story is endearing and very much one that I, personally, can relate to. So take a moment to read on below and learn more about Elaine and her artwork.
A little bit about the artist…Growing up in the countryside of rural Maine, I had an idyllic, perfect childhood. Running barefoot in the green fields, playing hide and seek in our big red barn, picking sweet peas, and eating blueberry pie are fond memories I hold dear to this day. My artistic process begins with those simple, pure moments. I strive to conjure up the essence of those good memories and capture them through whimsy and color, all stitched together with a sense of humor and delight. I call the finished piece, "textile collage".

I began sewing as a girl, winning 4-H contests and making all of my clothes. In college, I designed fabrics, enjoying the created effect of color and texture combinations. Later, while our three sons were little and I was home with them, I began creating "scenes" and portraits of a family boat ride, a cow farm, or a seaside picnic. Those "scenes" were noticed by a gallery and that was the start of my art career.

The creative experience…I enjoy tremendously the experience of co-creating with my clients on custom commissions.  When people tell me about their home – that incredibly special place for each of us – I get to experience the happiness and love that "home" brings to them. I am very lucky to first hear about, then envision, and finally bring those happy times to the piece of art. It was such a delight to spend time with the Vanolinda family discussing their custom piece of artwork. Listening to their stories of what they love about living in their new home at Briar Chapel made me smile. I am so happy that I had the chance to meet them and enjoyed working on their piece of artwork.
My experiences working with Kidzu Children's Museum in Chapel Hill, and the SECU Family House have been very meaningful. Working to enhance the community in which I live feels good. My most recent project, a collaboration with UNC Lineberger Comprehensive Cancer Hospital, is an art calendar titled: "NORTH CAROLINA TEXTURES, Scenes from the Mountains to the Coast". The proceeds benefit the North Carolina Cancer Hospital. This project has been not only the most challenging, but also the most meaningful one of my career to date. I'm incredibly proud of the finished product and hope that it helps many people in our state living with cancer.
Professional background…O'Neil graduated from Philadelphia College of Textiles and Science, earning a BS degree in textile design. She is great-granddaughter to a lighthouse keeper, granddaughter to a farmer, daughter of an ardent seamstress, and mother to three sons. O'Neil's ties to her past are ever present. Her work has been featured and exhibited in galleries from the coast of Maine to midtown Manhattan to shops in the Appalachian mountains of North Carolina.
In conclusion…Working with the folks at Briar Chapel has been fantastic!  I've had a great time portraying some of the memorable landmarks and buildings in Chatham County. I'm looking forward to debuting these pieces at the Art of Living Event – these new works were created especially for this show! 
Do you see what I mean about Elaine? She is just really down to earth and fun - we have really enjoyed getting to know her as we further develop our relationship! Join us during the art gallery installation and model home tour beginning at 4pm on September 25th to see the beautiful pieces created by Elaine O'Neil - chat with her and members of the Chatham County Arts Council. There are even opportunities to go home with a personalized piece of artwork (the photo at the top of the blog is one of the personalized pieces she created for one of our lucky homeowners, The Vanolinda Family)! For more information about the event and the artist click here .