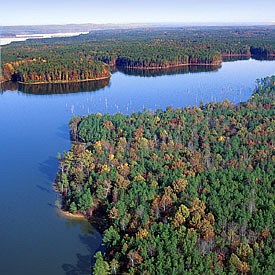 Exploring Jordan Lake State Park
Jami Pearson
Marketing & Event Coordinator
It's safe to say that I enjoy the outdoors. However, for some reason, in the six years I've lived in the area, I'd never explored the Jordan Lake State Park. Sure, I'd driven over it while rolling down Highway 64, but I never took the time to actually experience it. That is, until recently. How did I not know that this fantastic resource is just a few minutes down the road?!
After a bit of research, I knew exactly what I wanted to do on my visit: spot a bald eagle! I'm sure you're probably thinking, "in your dreams!" but it's true! Believe it or not, Jordan Lake is one of the largest summertime homes of the bald eagle. Although my scouting adventure was cut short by my growling stomach and the setting sun, I'm certain that I would have spotted one had I stayed longer (a pair of binoculars wouldn't have hurt either).
If bird watching isn't your idea of a good time, there are a myriad of other activities visitors can enjoy, including:
Boating
Camping
Fishing
Hiking
Picnicking
Swimming
You can also click here to for more information on park events. With activities on the calendar such as canoe and fishing lessons, those who aren't as familiar with the great outdoors have the opportunity to learn.
For those of you who've visited Jordan Lake, what is your favorite thing to do there?