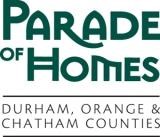 Briar Chapel Welcomes the Parade of Homes
Ah, the Parade of Homes … The Super Bowl, the Kentucky Derby, the World Series - The best of a builder's best …
The 2011 Parade of Homes kicks off this weekend! The five entries at green-built Briar Chapel are as amazing as ever.  What a great opportunity to see our builders' showing off what they do best, while getting an up close and personal tour of one of the top new home communities in the Triangle.
What are you hoping to find?  Here is just a taste. With OktoberBEST and the Pepper Festival this weekend, October 2, in our newest neighborhood and community park, Briar Commons, it's an appetizer, if you will.
McNeill Burbank is featuring their Tillman DR, 1725 Briar Chapel Parkway, with an eclectic mix of bronze and chrome hardware and lighting, a large, rocking-chair front porch, screened-in rear porch overlooking the
Briar Patch park and more. You can also view their Yates A at 314 Tobacco Farm Way. A wrap-around, front porch, rear screened porch, oversized, detached two car garage and custom trim and paint are
just a few of the touches you will see in this new plan, new model,
with the same McNeill Burbank charm and character.
David Weekley Homes will offer you a first-hand look at some of the lowest energy ratings in the area, showing how you can live (and save) green. You can learn that it's not what you see on the outside, but, shall we say, what leaks between your walls that can drive up your energy costs. With Advanced Framing in all of their homes, David Weekley Homes' Milliron at 1222 Great Ridge Parkway will show how their homes are built using 50% more insulation and their Stacked Framing transfers loads more efficiently.
But let's not forget that all homes in Briar Chapel are built to the NAHB green standard and are Energy Star rated. They also include a 3rd party certification by Southern Energy Management to back this up!
Check in with us next week for the next course, giving you another look at the fabulous offerings during the 2011 Parade of Homes. You won't want to miss it. Briar Chapel is the place to be.