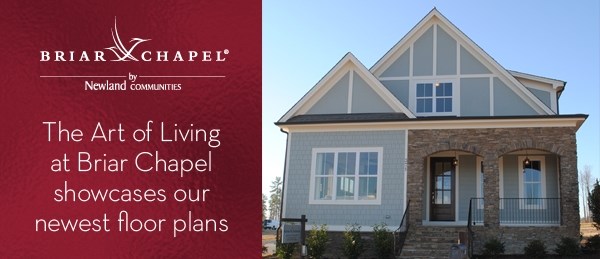 Enid Handler on The Art of Living
By Enid Handler


Briar Chapel has intentionally integrated art for the enjoyment of residents and guests alike on a daily basis.  You can see a variety of art by local artists throughout the nature trails and the community as a whole.  Now they have been inspired to carry the love of art into the home and this Saturday, February 25, they will be featuring The Art of Living at Briar Chapel, which promises to be a special event for all. 


From 3:00pm until 5:00pm there are 8 showcase homes to tour, with a variety of floor plans by excellent builders.  And in each of these homes, Briar Chapel is offering a sampling of wines from around the world, selected by The Fearrington House Sommelier, Maximilian Kast. 


Along the way, for your viewing pleasure we are proud to offer a large selection of artworks featuring artist  Murry Handler.  He is a painter of contemporary fine art who works locally and is exhibited nationally. His dynamic acrylics, striking black and white abstracts and brush and ink paintings are distinctive works which add an impressive touch to the homes on the tour.
Additional art on display includes ceramics by two cermacists from Chapel Hill, Emily Lees and Judith Ernst. Their beautiful pots, vases and trays are wonderfully colorful and add a decorative touch.   Photography in the Art of Living show is provided by Wojtek Wojdynski,  Margo Taussig Pinkerton and Arnold Zann. Their works are incredibly different, covering landscapes, fine art images from major museums and floral studies.

Additional works by two more contemporary-style artists are presented. Warren Hicks and Steven Silverleaf are painters whose approach to 21st Century art round out a survey of styles by local artists.  Silverleaf works largely with collage in colorful arrangement while Hicks offers abstract design in a variety of surfaces and sizes.  And breathtaking watercolor paintings by Florence Johnson will add a beautiful, soft touch to any home.  So stop by to enjoy the Art of Living at Briar Chapel.  This is an event you won't want to miss.