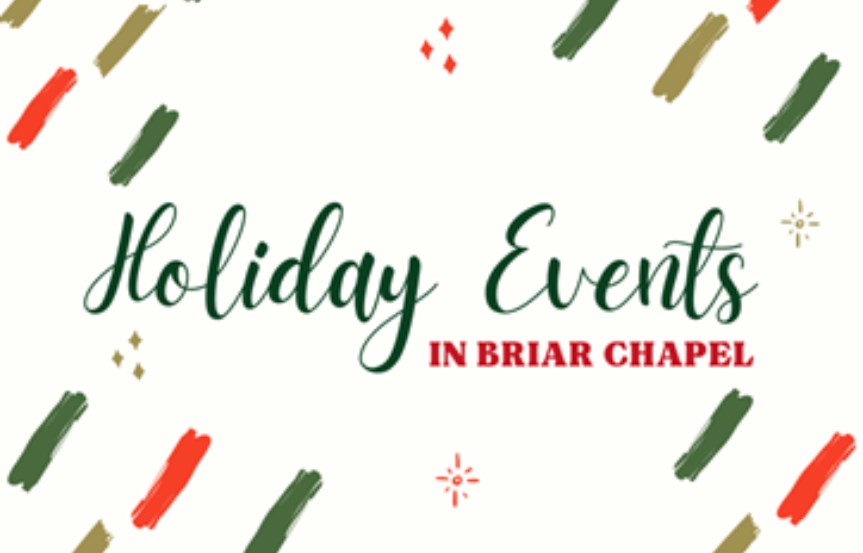 Holiday activities and events in Briar Chapel
It's the holiday season, and here at Briar Chapel, our HOA has arranged so many activities for our residents to enjoy. Here are some of the things Briar Chapel residents are doing this holiday season.
Holiday Party
At this year's holiday party, Briar Chapel celebrated with its residents with a mix of live and pre-recorded music provided by John G, a grazing table from Amazing Grazing NC and a dessert table with coffee and tea.
Gingerbread Competition
At the gingerbread competition, residents battled to see who could design the best gingerbread creation and be named Gingerbread Genius!
Cookie Swap
Residents showed off their baking skills and discovered new recipes during our Cookie Swap. Residents prepared five dozen of their favorite cookies to swap, and each resident left with five dozen new cookies to try!
Meet Santa and Mrs. Claus
Santa and Mrs. Claus are both visiting Briar Chapel this year! At our pancake breakfast with Santa, residents and their families will enjoy delicious pancakes, meet Santa to tell him what's on their wish list this year and get a professional photo taken.
At our Night Before Christmas event, residents and their families will get to meet Mrs. Claus and sip on hot cocoa while she reads Christmas stories to the kids.
Family Hanukkah Menorah Lighting
Briar Chapel is celebrating Hanukkah with its residents and their families with a menorah lighting and treasure hunt with a photo booth, goodie bags and more.
Children's Hanukkah movie night
Briar Chapel is hosting a children's Hanukkah movie night with popcorn, stories and dreidel games for residents and their families.
PORCH food drive
Residents have the opportunity to give back this holiday season by donating nonperishable goods to PORCH – Briar Chapel, an all-volunteer, grassroots hunger relief organization that collects food and financial donations through monthly neighborhood food drives in Briar Chapel. Donations supply food to the Chatham Out Reach Alliance (CORA) along with hunger relief programs at the Boys & Girls Club of Pittsboro after school program (PORCH Fresh) and local schools.
Holiday Parade
Following the food drive, PORCH – Briar Chapel invites residents to a holiday parade with Santa, firetrucks and other characters. At the parade, residents are given an additional opportunity to donate by bringing their favorite spice to add to the Holiday Spice Tree that will be donated to CORA food pantry.
Want to experience a holiday season like this? Check out our available homes here.
Located in Chapel Hill, North Carolina, Briar Chapel offers new homes from the $400,000s. Explore Briar Chapel's resort-style amenities, parks, trails, shopping and on-site schools, a community that has been named Best Neighborhood in Chapel Hill for seven years running!