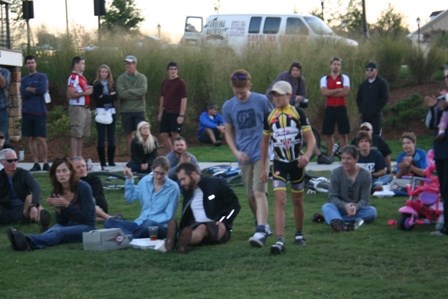 The 6BC Endurance Race Has Arrived
By Steve Rogers
Triangle Off-road Cyclists (TORC)
So, let's say you've got six hours to kill on a crisp, fall, Saturday.
What could you do for six hours?
Hmmm, let's see... You could detail your car. You could clean the leaves out of your gutters, rake the yard and mow the grass. You could watch Gone with the Wind. You could read all of Dan Brown's books.
You could do any of those things, or come ride your mountain bike at Briar Chapel. TORC, and the good folks at Briar Chapel, invite you to spend the day on your bike at 6BC, a premier mountain bike endurance event.
Come ride the trails winding their way through the Briar Chapel Neighborhood. Listen to the dry reeds of the beaver pond rustling as you cross Pokeberry Creek. See the craggy slopes and woods of Bennett Mountain. Watch the leaves waft out of the Oaks, Maples, Gums and Beech trees. Jump some logs and hop some rocks.
Then join us for the after party put on by Briar Chapel. There will be a food truck rodeo with Will and Pops and The Parlour Ice Cream, and kegs of Full Stream brew. Riders, of course, eat for free. There will be a modest charge for others.
So even if you are not into mountain biking for six hours – come on out. There will be plenty of fun for spectators as you enjoy the action from the racers rounding the course and just relaxing in the newest community park, Briar Commons!
For more details about the race and to register click here.