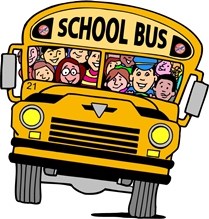 Back to School Advice for Parents
Jami Pearson
Customer Relations Representative 
It's that time of year again! Days filled with camp, diving competitions at the pool and sleeping in are soon to be replaced with field trips, homework and early mornings. Naturally, being out of the rhythm of school for a few months means that it will probably be an adjustment for your little one(s) when they head back. Never fear, though, because we've rounded up some of the best back to school tips out there to make this your best year yet!
When packing your child's lunch, it's easy to stick to the same old routine: PB&J, ham and cheese, Lunchables…you catch my drift. Keep things interesting and unpredictable with these "Brilliant Lunch-Box Ideas" from www.Parents.com.
If your child is new to his/her school, do a dry run with them before the first day; it will help ease any anxiety they might be feeling.
Getting re-accustomed to waking up early isn't going to happen overnight. A week before school starts, get your children on the sleep/wake-up schedule they will follow on the weekdays. It will make things a whole lot easier when their first day rolls around!
Go ahead and establish an after-school routine. Where are they going to do their homework? Where should they put all their belongings when they walk in the door? Discussing these issues ahead of time will make both of your lives a little more organized and less stressful.
Do you have any tried-and-true back to school tips that you swear by? Let us know in the comment box below!