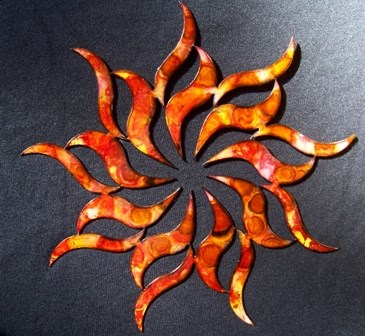 Getting to Know The Artist: Volume I
The next installation of the Chatham County Arts Council Satellite Gallery is July 17th and will feature two fabulous artists, Tamera Mulanix and Marcelle Harwell Pachnowski. Today we are pleased to share Tamera's perspective on the arts and what drives her creativity.
Q: Tell us a bit about your artwork and where you draw your inspiration.
I'm always exploring new ways to do things. I have many styles, but mostly work in steel. I try to make it flow by putting curves where I can. As for inspiration, I find it within, without, in music and in the world, in anger of what's happening in the world, in joy of what's happening in the world. I find it in silence and in prayer.
Q: In addition to The Chatham County Arts Council Gallery, where else might we find your work
 Womancraft, NC Crafts Gallery, Aria Skin and Laser Spa, General Store Cafe
Q:  If you could spend your day doing any one thing besides creating artwork, what would that be
 Spending the day in nature or the water with my best friend and husband Vernon of course.
Q: To folks interested in "dipping their toe" into an art community and making a name for themselves, do you have any advice
Take one of the many classes offered in our area, meet people and play.
Q: As an artist, is there anything you would like to share with the general public in their pursuit to discover/find original, local works of art
Chatham is a jewel when it comes to art and artists. Go on the Chatham County Studio Tour in December, check out the Arts Incubator in Siler City and of course, visit Chatham Arts Gallery in Pittsboro.
Q: Who is your favorite artist
I don't have just one. There are so many mediums and styles and I appreciate all of them.
Q: When you are creating, do you prefer music or silence If music, what kind/favorite artists
I usually put on Baha'I prayers set to music to find a good space to work.
Q: When did you first see yourself as an artist
I used to giggle when I would tell people that I was an artist.. and then it started to sink in about eight years ago and I started to really believe it.
Q: Do you think kids today are more or less inhibited to express themselves in creative ways
I think if a child is allowed to express him/herself and people...parents, school, society don't try to mold them into their idea of a person or consumer, that everyone has an artist inside. So, answering the question, it depends.. in general… yes.
Q: Regardless of age, how do you encourage people to embrace the inner artist
By looking inward and seeing the beauty in all of us that is much the same. By trying to show people that we are one people on this one planet. When we can let go of this baggage we all carry around, it is freeing and allows this Divine to transform us and express ourselves with love. One of the Names of God is Fashioner, another is Creator… if we are made in the image of God or believe that the Divine dwells in us, then we are all artists.
A kindly tongue is the lodestone of the hearts of men.  It is the bread of the spirit, it clotheth the words with meaning, it is the fountain of the light of wisdom and understanding…  Baha'u'llah.
Thanks Tamera, we enjoyed learning more about your creative process. To learn more about the event this weekend, click here! And stay tuned for the next post from Marcelle Harwell Pachnowski this week!