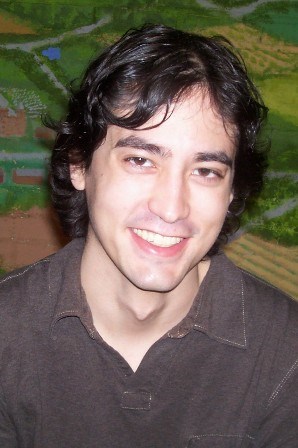 Celebrity Chef Perspective: Andrew Kuty, The General Store Cafe
As we grow nearer to the Earth Day Celebration at Briar Chapel April 17 – 18 we are pleased to bring you another local favorite, Chef Andrew Kuty of The General Store Café, with his perspective and commitment to local and organic foods. For more information about this event visit our website!
Q:  Tell us a bit about what it's like to be the chef at The General Store Cafe…
A:  Every day is exciting! I love working as a chef as each day brings new challenges; whether it's brainstorming specials, catering a wedding, or tweaking a recipe. It's challenging fast paced work and I wouldn't change it for anything.
Q:  When did you know you wanted to be a chef
A:  When I decided to no longer pursue my music degree any longer and I made my way to Portland, OR.
Q:  Where did you start your career as a full-time chef
A:  I've been working in the Food & Beverage Industry since I was 18 and decided to pursue a full time career when I was 20.
Q:  Why is it important to you to use local ingredients
A:  Not only are we directly aiding the local economy and fostering a sense of community, local ingredients will always be fresher. This is what makes the dishes taste so delicious.
Q:  What is the most popular dish served in your restaurant that is made from local or organic ingredients
A:  It has to be our GSC Shrimp & Grits made with fantastic, ethereally creamy local grits and loaded with garlic, shrimp, and roasted tomatoes. It's easy to love!
Q:  What is your favorite thing/ingredient to buy local and where do you get it
A:  Anything "Pig" from Cliff's Meat Market in Carrboro!
Q:  What can we expect to see from you at the Briar Chapel's Earth Day Celebrity Chef Charity Event on April 18
A:  We will be serving a dish featuring many local ingredients from Eastern Carolina Organics including fresh beets. There will be a demonstration and a tasting!
Q:  What advice can you offer to Triangle residents who would like to incorporate more local produce, meats and poultry into their at-home cooking
A:  Go to your farmer's market! We are so lucky to have such an abundance of local farms & products that are literally right up the block. Go to the market and explore! It's impossible to go home empty handed!
Q:  As you may know, this is the 40th anniversary of Earth Day. In celebration of this day, can you share what things you do (beyond cooking with local ingredients) either in your restaurant or at home to "go green"
A:  Right now, we are in the process of planting a large organic garden out back of the General Store Café, as well as, my own garden at home. I am very excited about the prospect of fresh food as well as some shade from the hot Carolina sun from the trees that I am planting.
Q:  What charity will you be supporting through your participation in Briar Chapel's Earth Day Celebrity Chef Charity Event
We are pleased to be supporting The Abundance Foundation!
Thanks so much Andrew - we look forward to seeing you at our Celebrity Chef Event at Briar Chapel on Sunday, April 18th from 1 - 4pm. Make your first stop at the Briar Chapel Information Center to get a tour guide and learn about all of the exciting happenings next Sunday! Stay tuned for our next blog post to hear more about the upcoming events. And please feel free to share with us your plans for Earth Day and what this celebration means to you.