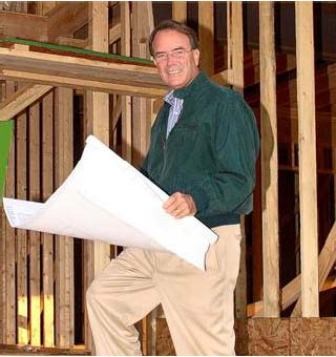 Committed to Excellence
Last week we had the pleasure of hearing from Steve Jellicorse of Morningstar Homes, one of the new builder's to join the Briar Chapel team. And today we are pleased to bring you our interview with Linwood Strickland, President and CEO of Homes by Dickerson.
What inspired you to become a home builder
Good question! I was working commercial construction for seven years in the Middle East and I came home on a vacation during Parade of Homes weekend – I was inside one of the homes and met Louis Dickerson (owner) and struck up a conversation. When I returned to Saudi Arabia, I received a letter from Louis sighting our conversation.
I had been thinking about coming back to the states and once I did, started working for Louis and formed a tight bond with him, and eventually purchased the business from him…
What is your favorite part of the home building process  
Seeing the vision become reality!
From a builder's perspective, the homebuilding process can be pushed and hectic, trying to accommodate the buyers desired close date. We have always been successful meeting this tight time schedule. I really enjoy at the very end, when the lights go on and the windows are cleaned, landscaping is in, and everything is beautiful – it is almost like magic, that you willed it to happen. I get a huge rush out of the fact that we can deliver a Parade of Home quality home to our customers every time.
Did you build your own home
Yes, I built my own home not once, but twice
What is the one feature of the homes you build for Briar Chapel that you would most want in your own home but do not have
I would love for my home to incorporate the green features that we are doing in Briar Chapel. Since I have completed my home, there have been much more innovations in energy efficiency for the homes that we are incorporating at Briar Chapel – I wish mine had those.
What are some of your favorite trends in home design
I have always gravitated toward understated elegance or a simplification of design both architecturally and with interior design. I really enjoy open floorplans and bringing the outside in; porches, patios, etc.
What made you want to be involved with Briar Chapel
I had been looking to build in the Chatham County / Chapel Hill area but had yet to find a project that I was excited about. The location of Briar Chapel is very desirable, being so close to Chapel Hill and yet with Chatham County taxes.
When I drove out the very first time, I was really impressed with the investment that Newland spent on the drive into the community and I have always felt that it was an impressive feature that I would love to have when coming home. It's very inviting and decompressing, and illustrates what Newland is doing to preserve the natural aspects of this area.
What would you like people who have never visited Briar Chapel to know about your homes in this community
I think buyers will find HBD homes to be very unique in exterior elevations as well as our floorplans. Architectural variety will be a hallmark for us.
If you build it, will they come
Yes, by consistently exceeding our customer's expectations, the team at Homes by Dickerson is proud to call the Triangle home and prouder still to build in this area.
Thank you Linwood! We are proud of the unsurpassed quality, craftsmanship and experience of the builders on our team here in Briar Chapel. And feel that is is imprtant to get to know them on an individual level. We hope you will take a moment to learn more about what makes them tick. Please share any comments you have - we would love to hear from you.