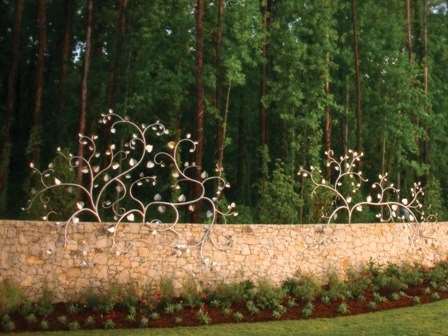 Art & Community; A Perfect Relationship!
By John Makowski

Chatham County Arts Council Gallery

 

When Briar Chapel opened in 2008, Briar Chapel and the Chatham County Arts Council formed a partnership. A public art program was created to ensure original art and sculptures commissioned by local artists would be placed throughout the community's parks and 24-mile trail system. We also support The Artists in Residence  programs at local schools that encourage students to experience and create art with the assistance and insights of local artists.

 

Last year we added another vehicle for learning and the arts, a satellite art gallery  at the information center. Below is my interview with John Makowski, Director of Satellite Galleries for the Chatham County Arts Council.

 

Q: The Satellite Gallery program is a great concept, what is the goal for the program

A: Artists have a difficult time finding venues for their work. They would much rather focus on making their art. Our service brings art to the community where it hasn't traditionally been.

 

Q: How many locations do you currently have and where are they

A: We have six locations currently, Legal Aid – Pittsboro; Coldwell Banker HPW – Chapel Hill; Briar Chapel – Chapel Hill; New Branch Chiropractic; Mina Beana – Siler City; 119 Hillsborough St – Pittsboro.

 

Q: How do you choose your locations

A: We look for a marketable audience and location, as our goal is to help the artists be successful in selling their art.

 

Q: How do you select the artists

A: Chatham County Arts Council has a jury committee that is responsible for selecting artists based on their ability and their body of work. We currently have 40 different artists associated with CCAC and currently around 25% of them are or have been displayed in a satellite gallery. To see a copy of the gallery artists guideline/application, click here.

 

Q: Can you tell us the types of art are on display and the typical price ranges

A: We display paintings of various types (oil, watercolor, wash, pen& ink, etc.), sculpture, metal & wood work. The prices range from $80 to $9,000.

 

Q: Any success stories you want to share

A: Yes, we have quite the success story from one of our gallery showing last year.  Each year we have an Annual High School Student Art Show where the high school students from throughout the county help to curate and create the artwork that is displayed. In 2009, we had a student, Charity Alston who, as a result of participating in the gallery opening, received a commission for original art and was featured in a magazine article (Chatham Magazine) during the show's run. One of the journalists who interviewed her introduced her to renowned artist, Beverly McIver , who became her quick kindred. McIver convinced Charity to come to NC Central University to study in preparation for art school. This all led to her being offered her own exhibit alongside Erick Davis at the Holly Springs Cultural Center.

 

That's a wonderful story, thanks John!

 

At Briar Chapel we believe that this program is a successful partnership between local businesses and the arts community. It creates awareness about the abundance of excellent artists in Chatham County and helps to support them as "local" business. In our experience, the quality of the artists is unparallel and the value is amazing!

 

Thanks to John for providing this information on the Chatham County Arts Council's Satellite Gallery program. If you desire more information, please contact them at (919) 542-4144.

This Saturday, March 6 we will present our newest installation featuring the work of artists Elaine Rhoades, Stan Pomeranz, and Doug Trimble. If you are interested in receiving an invitation for this event, please contact us at BriarChapel@NewlandCommunities.com.

 

 *The thoughts and opinions of guest bloggers do not necessarily reflect the opinions of Newland Communities or Briar Chapel.