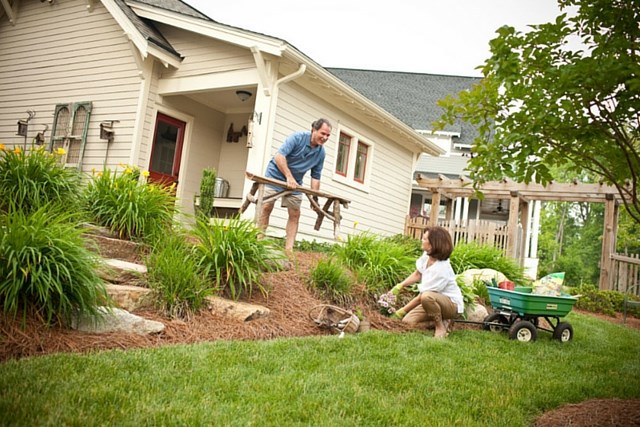 Spring Cleaning Tips
Remember that list you made ages ago with cleaning projects that you never got around to? Well now may be the perfect time to play catch up. Some of us have been left with a little extra time on our hands this spring season. HGTV has provided some great tips for cleaning the hard to reach and forgotten places around the house. Here are some of our favorites: 
Image from The Tabula model at Encore by David Weekley Homes
1. In The Kitchen 
"The best refrigerator cleaner is a combination of salt and soda water. The bubbling action of the soda water combines with the abrasive texture of the salt to make a great cleaner. Make this chore easier on yourself by tackling it one shelf at a time - every time you go to the store, make it a goal to clean a single shelf before you pile in new groceries."
Image from The Accent model by Garman Homes
2. In The Bathroom
"Mineral deposits in water can affect the showerhead and even shorten its life. Keep the jets in the nozzle clear and clean by misting the showerhead with a mixture of 50 percent white vinegar and 50 percent water. Allow it to sit and drip for a few minutes and then wipe it clean with a dry cloth."

Image from The Ashburn model by Saussy Burbank
3. In The Bedroom
"We spend a lot of time in our beds, 3,000 hours a year actually - that's the equivalent of four months! Keeping the mattress super clean, and rotating it a few times a year is important. To clean the mattress, vacuum the surface. Then, sprinkle on a mixture of baking soda and a few drops of essential oil (lavender promotes relaxation.) Let this sit for a couple of hours, then, vacuum the baking soda mixture away."

Image of The Formosa plan by David Weekley Homes
4. Outside The House
"Cleaning your outdoor furniture is relatively simple, but easily forgotten. While rain showers wash away some dirt and pollen, a thorough wipe down with a mild detergent goes a long way to keep outdoor furniture looking its best now and for years to come. Be sure to check your furniture's manufacturer's guidelines, if a special care routine is required."
Image from the Sales & Design Center by 

Homes By Dickerson
5. Around The House
"Clean the blades of a ceiling fan by covering them with a coat of furniture polish. Wipe off the excess and lightly buff. Alternatively, you can fit a pillowcase around the fan blade, and use it as a dust rag. Any dust that falls will land into the pillowcase rather than on the floor or furniture below."
Check out more tips here.