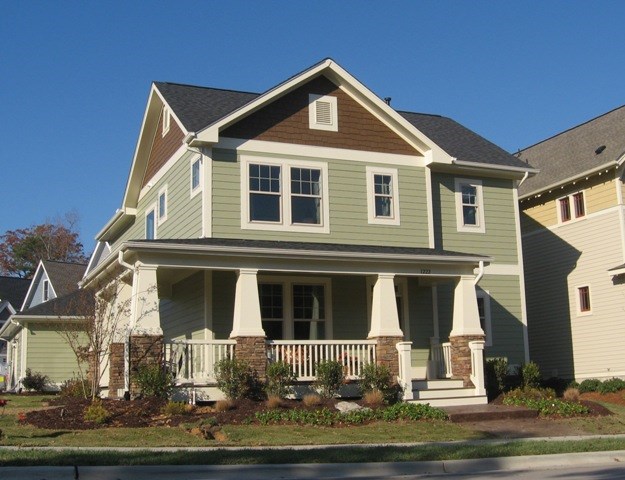 March 2012 Builder of the Month - David Weekley Homes
By Heather Campbell
Customer Relations Coordinator
David Weekley Homes brought award-winning, new-home designs to Raleigh, NC in 1995. Since then, David Weekley Homes has built homes ranging from the low $100,000's to just over $1,000,000, making each home unique to each buyer with unmatched design, choice and service.


The product lines and floor plans suit the needs of a variety of markets and lifestyles, with homes designed for first-time homebuyers to distinctive executive homes. Customers consistently seek out David Weekley Homes due to their positive reputation and award-winning designs.  The award-winning Design Center is an experience all in its own… homebuyers have the opportunity to see, touch, feel and browse through thousands of Custom Choices™ to help design their new home. This is where the fun begins during the home building experience with David Weekley Homes.



Few builders in America have received more industry recognition than David Weekley Homes.  They are the first home builder in history to attain the coveted Triple Crown in Homebuilding awards, an honor that includes "America's Best Builder," "National Builder of the Year," and the "National Housing Quality Award."  And that's just the tip of their award-iceberg.  They have also earned more than 900 awards for design, construction and marketing excellence.


But to David Weekley Homes, customer satisfaction will always be the yardstick by which their true success is measured.  And building green, energy-efficient homes is extremely important to them.  Their homes in Briar Chapel are, on average, 40% more energy-efficient than a home built in 2006.  They have spent years researching and crafting the building process of their EnergySaver™ Homes to maintain affordability for the Homebuyer, while lowering their energy usage and minimizing carbon footprints. Their EnergySaver™ Homes in Briar Chapel also feature Advanced Framing building techniques, are certified at the Environments For Living® Platinum Level, ENERGY STAR® Qualified and offer an Environmentally-friendly Refrigerant, just to name a few.


To learn about all of the David Weekley Homes green-building features here at Briar Chapel, or to view their floorplans and beautiful showcase homes, stop by for a visit.  This versatile, dedicated builder may just have everything you're seeking and more.