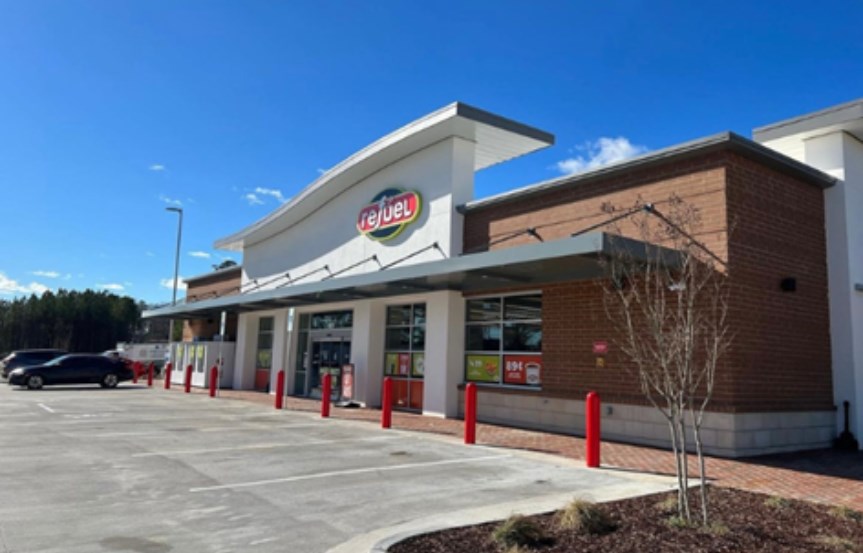 Refuel is officially open!
We are so excited to announce that Refuel, a premium retail fuel distribution and convenience store, is officially open!
Just a mile away!
The new gas station and convenience store is located at 45 Taylor Rd, Pittsboro, NC across from Food Lion and is part of The District, an exciting new venture that will offer even more conveniences, such as apartments, senior living, restaurants, medical facilities and more, to the residents of Briar Chapel and the surrounding area.
With Refuel right here in the Briar Chapel community, residents can fill up their tanks or grab a snack just a mile from home. Refuel also has a car washing service, bike racks and outdoor seating available.
Refuel Market
Need a quick bite to eat or a cup of coffee on your way to work? Stop by Refuel Market! Choose from a full selection of grab-and-go snacks and drinks, a hot food bar with pizza, mac and cheese, chicken tenders and more, a fresh ground coffee bar and an impressive beer and wine lineup. Fun fact: As a Refuel rewards member, your seventh fountain drink or coffee is always free!
Refuel rewards
Refuel's exclusive rewards program allows customers to save 20 cents on their first fill-up and three cents on every gallon of gas following. As a rewards member, every dollar you spend while shopping in the convenience store earns 20 points, and each gallon of gas purchased earns 10 points.
Car washing services
Refuel offers fast and convenient car wash services, such as an express wash, a deluxe wash, a complete wash and an extreme shine, along with an unlimited wash club membership that allows members to wash their vehicles as often as they would like.
Last chance to own!
Looking for a new home in a community rich in convenience? There are only a few opportunities left to own in Briar Chapel! Check out our available homes here, and don't forget to stop by Refuel!
Located in Chapel Hill, North Carolina, Briar Chapel offers new homes from the $400,000s. Explore Briar Chapel's resort-style amenities, parks, trails, shopping and on-site schools, a community that has been named Best Neighborhood in Chapel Hill for seven years running!