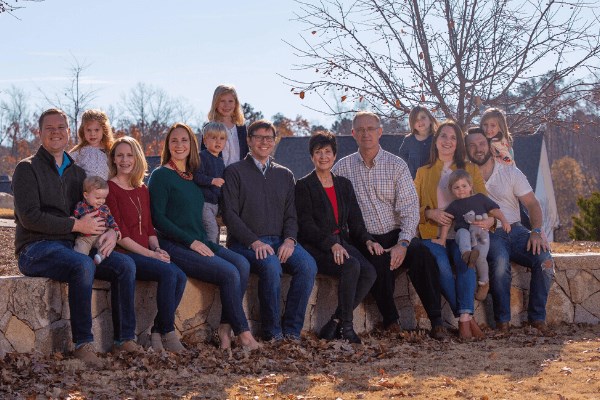 Multiple Generations, Multiples of Fun!
Briar Chapel is a cherished hub to multiple generations of families, an unmistakable testament to its widespread appeal and family friendly environment. Our community's quality homes and resort-style amenities along with its charming atmosphere and convenient location have inspired homebuyers of all ages and life stages to call Briar Chapel home.
We chatted with Briar Chapel residents to get the scoop on why so many families (and their families) love to live here together!
But first …
Meet a Few of Our Families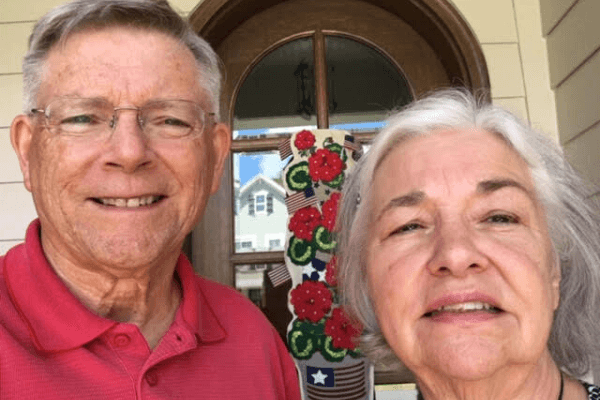 Jim and Ann Proper
Amy Rosso and husband Corey Rosso, children Sophie and Sam Rosso. Amy is the daughter of Jim and Ann Proper.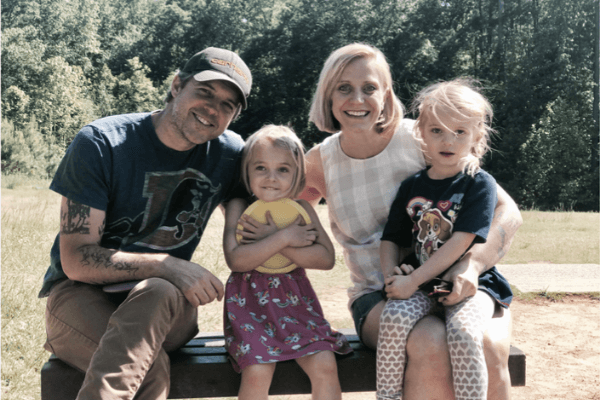 Kelly Powers and husband Kevin Powers, children Polenne and Louise. Kelly is the daughter of Tina and Glenn Feole, who are also Briar Chapel residents.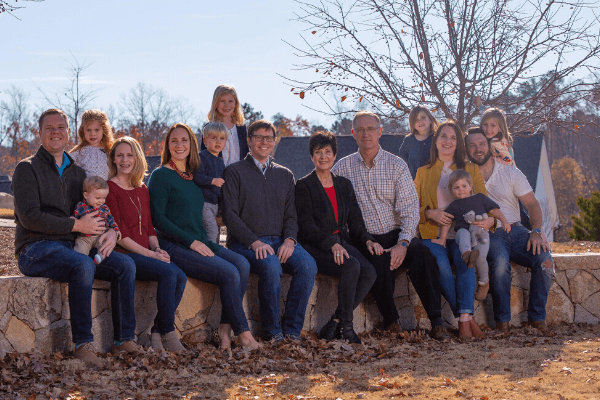 Terry and Peggy Young; daughter Amy Hueske and husband Brian Hueske, children Vivienne, Emily and Eleanor; daughter Katie Nestlerode and husband Lee Nestlerode, children Margot and Owen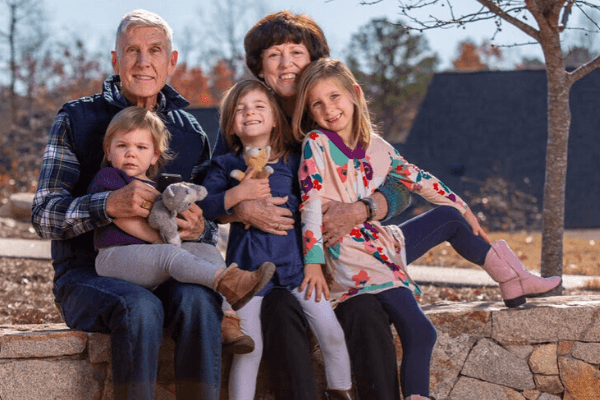 Barbara and Joel Hueske, parents to Brian Hueske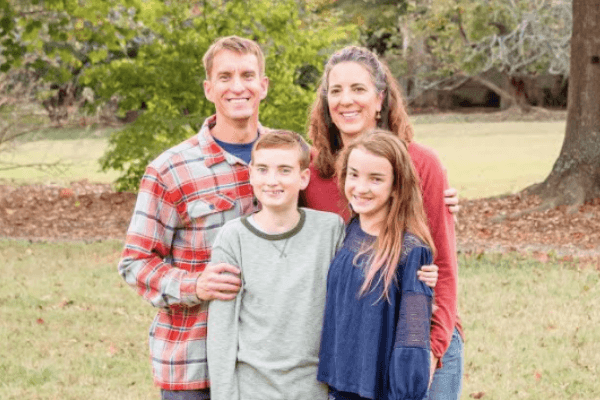 Doug and Peggy Ditter; daughter Emily and husband Bob Stoll, children Mason and Hailey 
Why Briar Chapel?


Location is Everything
Residents tell us they value a neighborhood that's accessible, close to their favorite stores and only a short drive from activities. Briar Chapel's tranquil spot amidst the hustle and bustle of Chapel Hill is optimal and convenient. What's more, the benefits of an opportune home base skyrocket when your loved ones are in close proximity. 
"Having family so close is amazing," said Amy. "It's not lost on me how lucky we are to have that camaraderie and support. We grab each other's groceries while we're at the store, or my parents are able to provide babysitting in a pinch. I believe in the concept that it takes a village to raise a family … and we're lucky that folks in our village live right here in Briar Chapel."
Besides having an extra helping hand around (or two or three), sharing a neighborhood with loved ones means getting to present in their everyday lives – but also enjoying space when needed. The Young clan cherishes the exciting bonuses of living near each other, from the unexpected family run-ins at the gas pump to the ease of celebrating birthdays together.
"It's nice being out and about and running into the people you love the most," said Terry. "You get to be part of each other's everyday life."
After growing up far away from her own grandparents, Emily Stoll recognizes the value of having her children's grandparents just a few blocks away.
"We love living in Briar Chapel because we are within walking distance of family," said Emily. "My parents and brother's family live within about a mile of us, and we love being able to stop by for a quick visit or get together over the holidays without traveling."
Home Styles That Never Go Out of Style
Briar Chapel's homes are thoughtfully constructed, stylishly up-to-date and an ideal fit for families of all ages and sizes.
Retired after a 30-year career in education, Jim and Ann Proper called Briar Chapel home approximately four years ago – and they're in love with their abode by builder Homes By Dickerson.
"Homes By Dickerson is outstanding – flexible and thorough," said Jim. "We've owned many homes in our lives moving with the school, this is by far the highest quality with the best builder communication and workmanship." 
The homes in Briar Chapel are so top-notch that when the Propers' daughter and son-in-law, Amy and Corey Rosso, visited one weekend, they decided to purchase a home by David Weekley Homes - without even having jobs in the area yet. Talk about feeling sold! Now Amy and Corey's children, Sophie and Sam Rosso, enjoy their grandparents' home as well, visiting "Mimi and Papa's" for movie nights and playdates at every turn.
Terry and Peggy Young spent their time in quarantine building a custom backyard patio – complete with sitting areas for holiday gatherings and a seating wall for their grandchildren. To celebrate the July 4th, the Youngs hosted a family dinner on their patio, cherishing the laughs and family memories that they might otherwise have missed.
"Our patio is our pandemic lifeline. It is a game-changer for us!" said Peggy. "One of our favorite memories is recently hosting a Saturday morning breakfast with our extended family in the neighborhood. The patio and screened-in porch provided a way for us to see our kids and grandkids while still social distancing. We would have felt so much more isolated if not for our patio!"
Amenities for All
No matter what your Briar Chapel amenity of choice is, it's even better with family.
Briar Chapel's water park is perfect for splashing, playing and soaking up sun while catching up on your reading list. Our 20+ miles of walking and biking trails offer welcome a casual stroll or a competitive family biking race, and gardening is a hobby just waiting to be cultivated at our community gardens.
Jim Proper and his son-in-law Corey Rosso bond during their regular matches at the pickleball courts. When they aren't frequenting the sports courts, the pool and the expansive trail system are a few of the big hits amongst the Proper-Rosso clan for extended family fun. 
Kevin and Kelly Powers treasure picnics in the nearby Constellation Park.
"I love seeing people all over and using the amenities the neighborhood has to offer," Kelly said. "You'll always see people out gardening or walking back to their houses with baskets of food." 
Everyone Feels Like Family
Briar Chapel has become a haven for many multi-generational families, a place to deepen relationships with relatives and create new bonds with neighbors and friends. Related or not, members of the Briar Chapel community are always willing to stop for a chat, give a friendly wave and look out for each other.
Whether your entire family tree resides in Briar Chapel or you're the first to move, here's the secret to the domestic bliss that characterizes life in Briar Chapel: a thoughtful, kind and welcoming community that feels, looks and cares like family. 
After her brother and then her parents relocated to Briar Chapel, Emily had new friends waiting for her almost as soon as she arrived. "My brother and his family knew so many people, that I automatically felt welcome," said Emily.
The Stolls also became acquainted with many new community members through participating in Briar Chapel's Triathlon and her son's membership on the Briar Chapel Barracudas, the community's competitive summer swim team. 
"Briar Chapel really is a friendly place to live. I remember neighbors dropping off gallons of water on the porch for us when our son was a baby during a water shortage," recalled Amy. "There have even been meal trains for families in need. There's just a big sense of community here."
Amy's parents Jim and Ann Proper couldn't agree more.
"Briar Chapel is a welcoming place," said Ann. "Neighbors become surrogate grandparents, aunts and uncles, and everybody waves to everybody."  
Briar Chapel is calling your name?