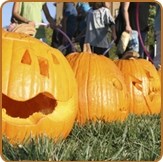 Fall, Festivals And Fun…
by Brittany Plumb
Activities Director, Briar Chapel
It's that time of year again. The weather is perfect, the scenery is colorful and the holidays are upon us! There really is no better way to celebrate fall than with a fun festival for all to enjoy. Here at Briar Chapel our residents are anxiously awaiting our neighborhood festival the end of October – we will have a variety of activities for all ages. If you're looking to plan a Fall Festival for your community, civic group, or with a friendly group of ghouls and goblins, check out some of our ideas below.
Pumpkin Carving Contest: What is a Fall Festival without a Pumpkin Carving Contest?  Provide one large pumpkin for all families (or ask each family to bring a pumpkin to carve). For those smaller tikes that don't need to handle knives, give them a small pumpkin to paint – it'll be just as much fun. If you have a few helpers, you can pre-gut the pumpkins for everyone, otherwise just put out a large bucket, lined with a trash bag and a sign that says "Pumpkin guts here!" After the event you can do your part to be environmentally friendly and compost the "guts" OR use the pumpkin seeds for roasting – YUM! I think we'll use ours for the community garden…Don't forget to equip everyone with a gutting tool and a serrated knife to carve.
Tip: If you like to use patterns to carve your pumpkins a great idea is to put some flour or powdered sugar on the pumpkin after you have indented the patter. This helps you see the lines of the pattern better.
Hay Rides: A great tradition for all ages. Make sure parents ride with their children. For added safety or as an extra precaution, it could even be a good idea to have participants sign a waiver if you have someone (such as a friend or neighbor) who is not associated with a business, and has minimal liability insurance, driving.


Hay Hunt: This is a cheap way for the kids to have some fun. Create a mound of loose hay. Mix some candy and toys in the hay and let the kids dive in.
Tip: Split the kids up by age groups to minimize trampling and allow everyone to have an even advantage.
Games: We can't forget all the fun games that Fall Festivals encourage!
Mummy Wrap: assemble teams of two or three. Arm everyone with a couple of toilet paper rolls and give them one minute to "mummify" one of their team mates. Have the audience vote by cheers.
Potato Sack Race: Pretty self explanatory. Give everyone a sack, line them up and establish a finish line. First one over the finish line wins. You could also create an Obstacle Course for racers if space allows. 
Bobbing for Apples: Throw some apples in a barrel full of water and see how many you can get out with just your teeth. This is usually most fun for the spectators. Not sure about getting all wet, then try this variation of the game. Hang a row of apples from a clothes line and have people try to catch the apples with their teeth while they are swinging.
Costume Contest: Don't forget to honor the scariest, funniest and most creative costumes. Splitting up your costume contest in age groups helps with the judging.  Have an Adult group as well; you'll be surprised how many adults still love to dress up!
I hope everyone has a great fall and a fun Holiday season.