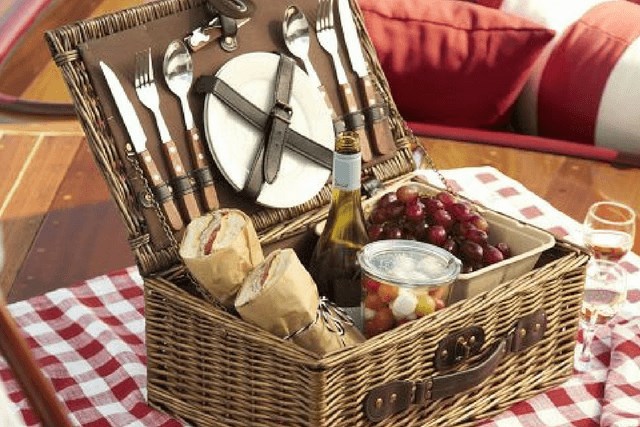 Pack the Perfect Picnic
Seize the day…or rather, the weather! North Carolina has some of the most stunning days in early spring and late fall for outdoor dining and picnics. There are few things more satisfying than packing an exquisite lunch to enjoy in nature whilst the children play. Chef Daniel Taylor, an acclaimed professional chef, founder of Briar Chapel Chef and a Briar Chapel resident, unveils his tips, tricks and tastiest recipes to help you plan a picturesque picnic.
Picnic Etiquette
As Chef Taylor points out, picnics are about unassuming food and exceptional company. When choosing what to serve for a quality lunch, just remember to keep it simple. Serve items that are happily consumed at room temperature, aren't too messy and require little effort assemble. Chef Taylor suggests a menu of items that can be eaten with the hands, because perching on your finest blanket while trying to balance a plate on your lap can pose quite a challenge. If offering salad, serve it in bowls to make the experience easier. Always remember, the food and beverage is meant to enhance the true experience of spending a glorious day with those who hold dear – especially in one of Briar Chapel's 20 parks and open spaces!
Chef Taylor's Perfect Picnic Recipes

The Best Deviled Eggs
Serves 4
6 eggs, boiled hard
1 tbsp mayonnaise
½ tsp strong Dijon mustard
1 tsp hot sauce
Sea salt
12 rings hot banana peppers
2 sliced smoked bacon, cooked
Hot smoked paprika, for sprinkling
Method:
Start the raw eggs in cold water and bring to a boil. Let cool in the water and peel when room temperature. Slice the eggs across the belly, not top to bottom, and remove the yolk. Level then egg whites to make a flat base as they can stand up. Mix the mayo, mustard, salt (to taste) and hot sauce with the egg yolk. Mix in a blender or quickly with a whisk to ensure no lumps exist. Place the yolk mixture into a piping bag with a star tip and pipe into the whites. Garnish the top with shards of crispy bacon, smoked paprika and hot pickled pepper rings.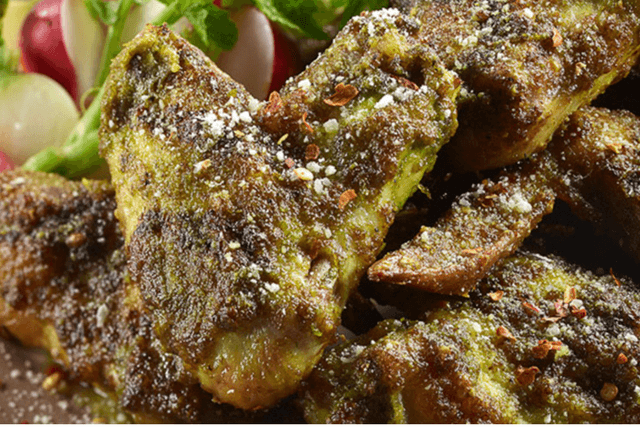 Wood-Smoked Chicken with Pesto
Serves 4-6
1 whole chicken, jointed into 10 pieces (leg, thigh, breast in ½ and wing)
1 lemon, zest and juice
4 sprigs time, picked
Olive oil
Method:
Combine all and marinate overnight.
Basil Pesto
2 bunches (about 4 cups) basil, picked
2 cloves garlic, crushed
3 oz Parmesan cheese, grated
4 oz toasted pine nuts
Sea salt
½ cup extra virgin olive oil
Method:
Combine all in a food processor to form a paste
Cooking method:
Cook the chicken over hard wood to achieve a nice smoke and char, baste with the pesto once it is 95% cooked. This will lightly cook the pesto and make it stick to the chicken. Let rest for at least 5 minutes before eating or serve at room temperature.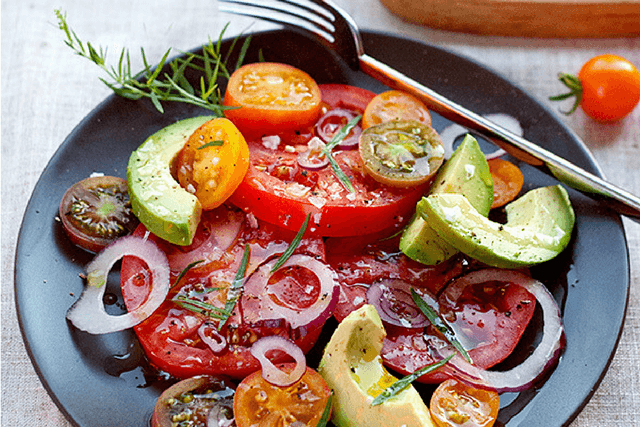 Tomato Salad, Avocado, Shallots and Red Wine Vinegar
Serves 4
2 heirloom tomatoes, sliced in random shapes that should fit on a fork
2 bunches sweet cherry tomatoes, sliced in half
Cabernet sauvignon vinegar
1 large avocado, sliced
1 shallot, cut into rings
Handful of arugula leaves
Sea salt
Extra virgin olive oil
Method:
Lay the arugula on a flat platter, then the tomatoes followed by the shallots and avocado. Sprinkle liberally with sea salt and then lots of vinegar. Finally the olive oil and serve immediately.
New Potato Salad
Serves 4
4 cups small gold potatoes, boiled, peeled and halved
1 tbsp capers
1 bunch green onion
½ bunch parsley, chopped
½ English cucumber, peeled, seeded and cut into fork sized pieces
2 boiled eggs, chopped
Method:
Combine all and dress with the following dressing.
Dressing:
1 tsp sugar
1 tsp Dijon mustard
1 tsp white wine vinegar
½ cup olive pomace oil
Method:
Combine all but the oil and whisk until the sugar is dissolved. Whisk in the oil until thick and emulsified.
Want to learn how to cook like a professional chef, try new recipes or simply hone a few culinary skills? Chef Daniel Taylor, founder of Briar Chapel Chef, offers personal and group cooking classes that he brings straight to your own kitchen. He also offers in-home catering, meal planning consultation and – for those looking to break into the culinary profession – food business consultation.