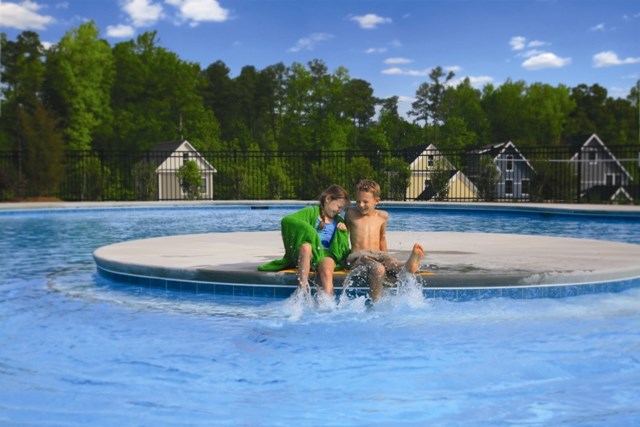 Sweet Summertime at Briar Chapel
Cali Buhrman
I just love summer, don't you? There is something so relaxing about soaking up the sun with an ice cold lemonade in your hand. I also love watching the kids laughing and playing at the pool with their friends. As we say it here in the South, the tans may fade, but the memories last forever.
Oh, but I'm not talking about some Caribbean Island resort— it's all right here at the Briar Club!
The Briar Club, located in the heart of Briar Chapel, is our beautiful, LEED Certified clubhouse. It is home to our Activities Director, Brittany, who keeps the event calendar jam-packed with fun activities for residents, ranging from a Memorial Day cookout to fitness classes, like yoga and Zumba. What a fabulous way to connect with neighbors, get out of the house, and try something new!
I think I am most excited for the opening of our beautiful resort-style water park! The Briar Club houses our salt-water pools, including a zero-entry pool with a diving well, an eight lane lap pool, and a splash pad for the little ones. We also know that in order to have non-stop fun, it is important to stay fueled and hydrated throughout the day. Never fear, we've got you covered—our cabana building has a snack bar filled with yummy snacks and drinks. We even have a swim team this year, which is open to residents and families who have purchased an outside membership, so make sure that the fish in your family are able to have a summer filled with fun and fitness! 
To get a feel for resident life at Briar Chapel, you can view the community newsletter here or pick one up at the Information Center.
Have you visited our Briar Club? What's your favorite thing to do there?