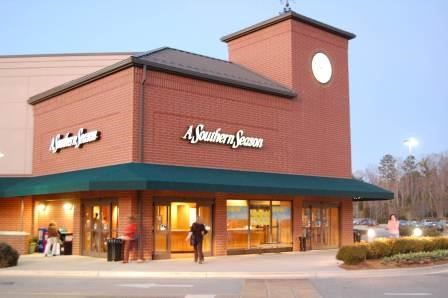 Southern Season, a Foodie's Heaven
Jami Pearson
Marketing and Event Coordianator
A foodie through and through, I've been hearing about Southern Season for years but surprisingly never took the time to visit. Whether it be from friends who attended UNC-UC or co-workers, the consensus is always the same – I absolutely have to go.
"No way," I thought, "This place can't be what one friend actually referred to as 'heaven on earth.' These people are just being dramatic." However, after realizing that it's located only 10 minutes from Briar Chapel, I know that there was no excuse for me not to make a trip. Now, I can honestly say that I'm a believer.
Everywhere I turned was something new to see, smell and taste. Whereas most specialty food stores are small, with a little of this and a little of that, Southern Season has practically anything and everything.
Cooking classes? Check!
Gourmet wine selection? Check!!
Fine china? Check!
Cookware, chocolate, cookbooks, tastings, and everything-in-between? Super duper check!
I was also very impressed with the selection of local goods. After all, who doesn't love Chapel Hill Toffee? Not this girl! Just as exciting, there's a section dedicated to the local Universities, consisting of all sorts of neat branded items. From NC State Turvis Tumblers (GO PACK!) to North Carolina Tar Heels Hot Sauce, even the most fickle fan will find something to their liking.
Often referred to as a "culinary mecca," Southern Season is more than a store, it's a destination.  As if the massive 60,000 square/foot space it occupies isn't enough, there's even an in-house restaurant: Weathervane.
Whether you need to purchase craft beer, the latest cookbook or simply want somewhere interesting to browse for a while, this is your place. For those of you who are already fans – What do you enjoy most about shopping here?