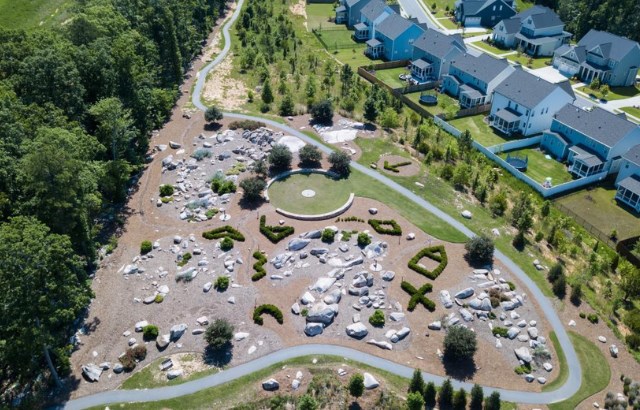 Briar Chapel wins at the 2022 STARS Awards
The STARS Awards program, hosted by the North Carolina Home Builders Association, honors the achievements of home building industry professionals across North Carolina. Winners are recognized for their achievements in areas such as marketing and advertising, sales and information, landscape design, interior merchandising, architecture and floor plan, special projects and more.
We are so excited to announce that two Brookfield communities, Briar Chapel and Wendell Falls, took home wins at the 2022 STARS Awards!
Congratulations to Briar Chapel for taking home "Best Landscape Design!"
The design of Briar Chapel beckons residents to explore the outdoors and creates a sense of home within nature. The community embraces walkability, with 20 miles of trails connecting neighborhoods and blending acres of parks, an outdoor waterpark, outdoor art installations and water features. Homes are placed closely together to allow extra space for active parks, and the land plan preserves natural topography and species-rich areas, such as wetlands, open land and nearly 900 acres of trees.
As a 1,600-acre sustainable community, Briar Chapel draws inspiration from its landscape to craft distinct, whimsical parks. Constellation Park weaves a creative celestial theme into the natural landscape. Designed to accommodate large viewing parties, a viewing pad forms the park's centerpiece, and the planting palette creates a radial pattern that "orbits" the pad like a planet. Groups of shrubs are planted in the shape of the major constellations, and permanent stargazing viewfinders dot the park. Mirroring the stars, the park's natural rocks serve as a focal point. The team repurposed on-site boulders as seating, retaining walls and decorative formations. Paths curve around existing topography, while groomed indigenous vegetation doubles as landscaping.
To support a sustainable environment, Briar Chapel reused natural materials, including boulders removed during grading, throughout the land plan, such as for walls and monument signs. To further lessen the ecological footprint, Briar Chapel and its partners utilize organic products without harsh chemicals and electric/battery operated equipment when maintaining the land.
Congratulations to Wendell Falls for taking home "Best Sustainability Project!"
Wendell Falls was designed on principles of sustainability. Every element works to decrease the community's ecological footprint while building a legacy. The land plan and grading complement the natural topography, currently nestling 1300+ homes into the existing landscape. The design team carefully preserved natural forestry, 237 acres of open space, water features and indigenous habitats.
The community is one of the only master-planned communities in the Triangle built entirely with environmentally friendly homes that meet the ecoSelect standards, meaning they are inspected throughout construction to meet energy, water and indoor air quality requirements.
Congratulations to Briar Chapel, Wendell Falls and the rest of the STARS Awards winners!
Located in Chapel Hill, North Carolina, Briar Chapel offers new homes from the $400,000s. Explore Briar Chapel's resort-style amenities, parks, trails, shopping and on-site schools, a community that has been named Best Neighborhood in Chapel Hill for seven years running!