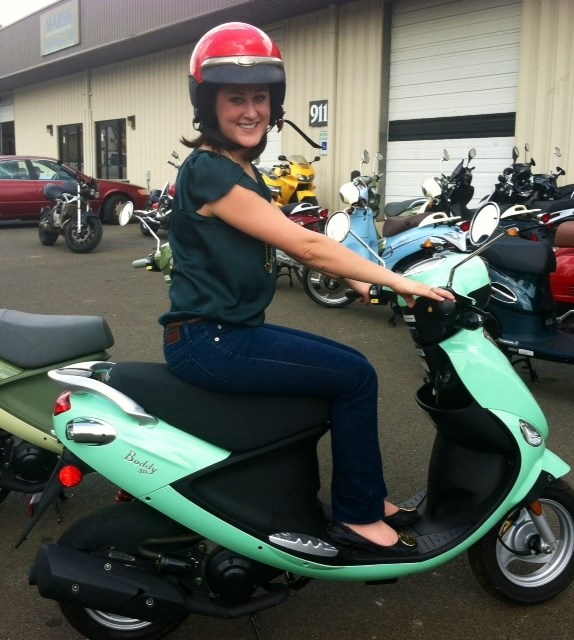 Engage With The Environment on A Buddy Scooter!
by Jami Pearson
Marketing Coordinator
Fun, retro, shiny, and CUTE – These are just a few of the words that came to mind upon seeing a "Buddy" Scooter in person for the first time during my visit to Combustion Cycles. I can picture myself zipping around a small European town while driving it or maybe just cruising through Wrightsville Beach. No matter my destination, one thing is certain – I'd be getting there in style. I can't believe that we're actually giving one of these away!
After speaking with the shop's owner, Dave, for a few minutes, it's easy to see that his passion lies in all things consisting of two wheels and a motor. A graduate of the University of North Carolina Wilmington with degrees in both chemistry and physics, Dave opened shop in 2003 and hasn't looked back. Predominately catering to those residing in Carrboro and Chapel Hill, Combustion Cycles has made quite a name for itself. In fact, it won "Best Place to Buy a Scooter" in Indy Weekly's Best of the Triangle 2011, which is why we chose to buy the "Buddy Scooter" we're giving away at our Earth Day Celebration from them.
Dave says that the best thing about owning a scooter or motorcycle is that "…they're just fun, a lot of fun. They engage you with your environment. When you're on a scooter, you pick up on details that you would normally miss in a car." It seems that his customers agree because now that spring has sprung, so have sales.
Putting their obvious appeal aside for a moment, these scooters have something even better going for them; they're "eco-chic!" Simply put, they're a non-gas guzzling, "green" method of transportation, and it doesn't get much better than that, y'all!
For your chance to win a FREE Buddy Scooter - participate in our #BCBestBuddy contest and start earning points today - you still have a chance to win!