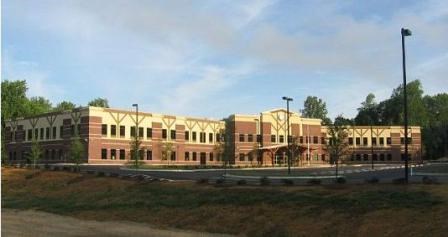 The Opportunity of Summer
By Harrell Rentz
Principal, Woods Charter School
School is out at Woods Charter School, as of June 12th. It's an exciting time. For our students, teachers, parents and friends who believe in working hard and playing hard, it's a time to switch gears. Sometimes it seems that we live in a world which encourages us to be over-programmed in our daily lives and over-structured in our experiences; so, I am a big believer in doing things during the summer that are different – reading something other than the usual or required reading, writing daily about thoughts or experiences, travelling either close to home or far away as schedules and pocketbooks allow, taking a class or going to camp to learn something new, learning a new sport or game, and discovering something new (even in the backyard).
This summer I plan to take my own advice. As soon as school is out and the paperwork for 2009-2010 is done and reports are filed, I'll take a few days to relax at home, catching up on a few household chores, spending time with my parents and my family, catching up on sleep after the hectic month of May and the final weeks of school in June. I'll do some school-related travel to conferences in Chicago and nearby Raleigh. I'll visit friends and family in Washington DC and New York City. I'll vacation with a friend in Charleston, SC and a cousin in Beaufort, SC. I'm taking an on-line Spanish course through the Kenan-Flagler Business School at UNC-CH – a brand-new skill in a brand-new setting online! I've never learned Spanish or taken an online course. I can do this AND travel – wow! I'll get back to doing "morning pages" (free-writing first thing in the morning to record those thoughts running through my head as the day begins). Doing something different will provide that change of pace that I need to re-energize for the school year ahead. My work as principal, which is a wonderful privilege, involves constant engagement with people and numerous opportunities for service. When I'm in vacation mode, I tend to choose to do things by myself, with a friend or family member, or in a very small group – a change of pace for me. I am a gardener year-round; so, I'll also spend a lot of time in the garden when I'm in town. I also hope to visit several of the wonderful gardens in this area. Along the way, I'll always have a book handy, although my stack is so high that I haven't yet chosen the exact titles.
The bloggers at Briar Chapel asked me to share some ideas for students and parents for the summer, and I asked a few colleagues to help me out. My personal favorites are cited in the paragraph above, but we came up with more ideas to share with you. Whatever you choose to do, throw yourself into it and enjoy! It's summer.
Cotton Bryan, our incredible (and very cool) Assistant Principal and High School Director, shared the following: "I think it's important to keep kids writing over the summer.  To that end, I think any and all family trips should include a notebook, pen, and glue stick for documenting where you go, whom you meet, etc.  The glue stick is key -- it's there so that any tickets, postcards, receipts, etc. can be included and commented on in the journal."
Sonja Younger, a popular Woods middle school science teacher and yoga enthusiast, says: "Give them un-scheduled time at home without ANY media. Let them experience boredom. Each time they complain about being bored, give them a chore to do (have a list of chores ready for them to see what they can do if they are bored). They will soon learn not to complain about 'having nothing to do' and will begin to fill the empty space with their own ideas. Key: NO ELECTRONIC ANYTHING. Having a friend to be bored with works great too. They can play 'name a game, you go first' where they take turns suggesting things to do until they both decide on something. Key: whatever they do is of their own design and does not involve the parent."
Ann Kaiyala, our Director of Personnel and Special Services (aka "Miss Ann") and founder of the WoodsRock concert (last Saturday in August at Shakori Hills – B there or B2 and bring the family), encourages you to check out the offerings of our Woods Summer Wonders 2010 camps. From July 6 – 30, Miss Ann and her team offer a variety of opportunities. Check them out to learn something new and have fun all at the same time.
The classic game of Mastermind – my favorite solo pastime – is a terrific brain teaser. Mastermind is available as a board game and on the web, but a similar game is also available as an iPhone app called "Crack the Code." I can consistently crack the code in about ½ the number of allowed guesses. Can you beat me
Another favorite game is "The Dictionary Game." You can buy it, but you can also play it with a dictionary (hard copy or online), paper and pencil. It's creative, imaginative, and vocabulary-expanding.
Another geat place to visit is the zoo in Asheboro!
Summer is a great time to do community service. There are so many opportunities that I am not going to single out just one. Take some of your time and some of your talents to give back to the world. You could research and sign up with an organization, but you can also make this really simple: (1) find a stretch of highway where you can safely pick up litter and proceed to improve the environment by cleaning up a little bit of the planet; (2) resolve to do something kind for someone everyday this summer. The catch: they can't know you did it and no one has an opportunity to thank you for it. You know you did it, and that's all that matters!
On our school website we talk about "the Woods Way." During the summer I would emphasize "Adventure & Opportunity." Have a great one!
Thank you Harrell - some great ideas that we can all take to heart to keep our minds active and engaged this summer. Please share with us some of the creative ways you spend your day learning and growing during the "dog days" of summer.