2023 Interior Design Trends
Our homes are where we spend most of our time and an extension of who we are. This year's interior design trends focus on creating spaces that authentically reflect the homeowner's style and will last for years to come. Here are the top 2023 interior design trends.
More colorful palettes
In 2023, we will see a shift from all-white and beige interiors to more colorful palettes, such as terracotta and burgundy. Incorporating more colors and patterns into your home adds a personal touch and makes the space your own. Try an accent wall, some fun wallpaper or a few colorful throw pillows.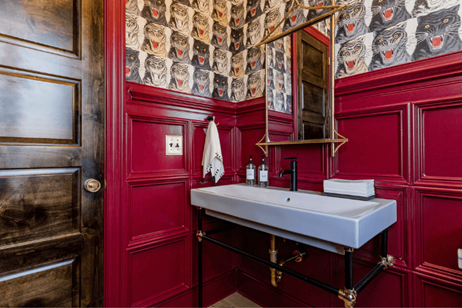 Sustainability
This year, sustainability will continue to be a driving trend in home and interior design. Briar Chapel was crafted around core principles of sustainability, and we have a commitment to building green. Some of our homes even go above and beyond our standard sustainability requirements, such as our David Weekley Townhomes that feature energy efficient windows and other innovative EnergySaver™ features.
"Lived-in look"
Our homes are where we live, and no one wants to tip-toe around their own space. In 2023, we will see home interiors that reflect those who live there. This means bookshelves filled with items you actually use, furniture that corresponds with your lifestyle, art and décor that has personal meaning and organizational systems that work for your natural habits.
Designed for you
Our homes have many purposes. They are where we gather, where we relax and where make memories. In 2023, home design that reflects the homeowner's lifestyle will continue to be a driving force for designers. 
Briar Chapel homes are designed with residents in mind with features such as open concept gathering areas where friends and family can make memories, showcase style kitchens to share cuisine creations, additional bedrooms to host guests, upstairs retreats that make a perfect movie theater, game lounge or library, covered porches where you can enjoy early mornings and owner's retreats where you can relax and rejuvenate. 
Intentional lighting
Lighting is arguably one of the most important aspects in a home because it sets the tone for the space. In 2023, opt for low lighting, such as accent lamps and soft-lit chandeliers, to create a cozy space, and open your shades to let in natural light.
Natural light is a key component in many Briar Chapel homes, and our townhomes by David Weekley feature energy-efficient windows that extend the open sight lines from the front door and allow your interior to shine with natural light.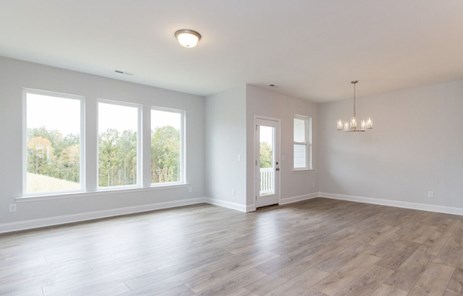 A mix of design styles
At the end of the day, no one fits perfectly into one "aesthetic." We all have different tastes and trying to force your home to be one "look" prevents the space from being your own. In 2023, we will see an increase in mixed design styles and individual expression.
We are already seeing this design trend come to life here at Briar Chapel. Our townhomes by David Weekley blend a modern architectural exterior with traditional interior floorplans to provide the best of both worlds. 
Personalized spaces
If you really want to make a house your own this year, consider customizing! Our final phase features 15 completely customizable homesites from McNeill Burbank and Homes by Dickerson so you can create the perfect home for you. These homesites offer more customization opportunities than any other in Briar Chapel. Homeowners can work directly with the builders to customize finishes throughout the home, such as trims, fixtures, wood finishes and more. Buyers can even design their own backyard escape by starting with a fully wooded lot and having control over which trees come down in their private enclave.  
Structural details over minimalistic design
As we see interior design trends move away from extreme minimalism, we will see more structural details within homes, such as wall moldings, built in bookshelves, wall paneling, arched doorways and extravagant windows. In fact, several of our homes by McNeill Burbank and Homes by Dickerson have these features!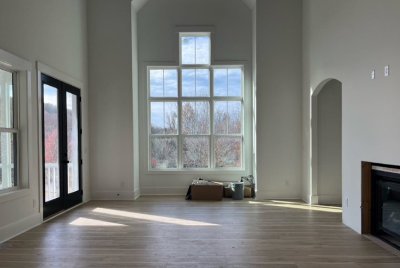 Handcrafted furniture
As trends continue to lean towards personal style, individuality and sustainability, people will opt for furniture handcrafted with quality materials over mass-produced furniture. This year, look for pieces that support local craftsman, are inimitable and will last a lifetime.
Curated laundry and mud rooms
In 2023, we're making every space in our homes enjoyable, and that includes mud rooms and laundry rooms. Our homes by McNeill Burbank have a large mud/laundry room that features a built-in coat and shoe rack, built-in clothing rails, a sink with storage and a coat closet. Check out a virtual tour of The Harrington, one of the few McNeill Burbank homes left in Briar Chapel, here!
Looking for a new home this year? There are only a few chances left to own in Briar Chapel! Check out our available homes here.
Located in Chapel Hill, North Carolina, Briar Chapel offers new homes from the $400,000s. Explore Briar Chapel's resort-style amenities, parks, trails, shopping and on-site schools, a community that has been named Best Neighborhood in Chapel Hill for seven years running!