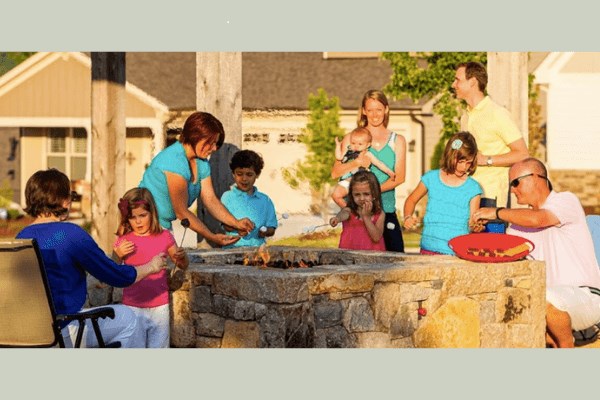 Briar Chapel's Endless Events
If you're looking for a community bursting with opportunities for family fun, outdoor adventures and meaningful volunteering, Briar Chapel could be the place for you. 
To get a better look into life in the community, check out the events below that were held throughout April. If you want an even closer look into Briar Chapel, read testimonials from our residents about why they love the community. 
Bruster's with the bunny: To celebrate the Easter holiday, Briar Chapel invited the Easter Bunny to spend a special day with residents in the community. Residents snapped photos with the bunny while enjoying delicious ice cream from Bruster's. 
Mobility and mimosas: In mid-April, residents were welcomed to join a yoga class at Great Meadow Park, one of Briar Chapel's many outdoor recreation spaces. The yoga class focused on movement and mobility, and after, participants sipped mimosas to celebrate their hard work. 
Food truck mania: Briar Chapel knows how to throw a food truck rodeo (yes, it's a thing!). Last month, six different food trucks set up shop at Great Meadow Park. Residents enjoyed an evening out in the park and were able to pick from delicious offerings of seafood, Korean BBQ, traditional Irish pub food and more. 
Ninja mountain biking: Briar Chapel offers great parks and trails for residents who lead active lifestyles. The community hosted a full 2-day camp for those looking to take their mountain biking skills to the next level. The camp included fundamentals, women-only, jumping, intermediate, and advanced clinics. 
PORCH: This past month, Briar Chapel became a nonprofit chapter of the PORCH program. PORCH is a Chapel Hill-based nonprofit setting out to fight hunger, and the primary beneficiary of the Briar Chapel chapter is the CORA Food Pantry. As one of the communities' many charitable efforts, residents donated non-perishable foods to the pantry. 
Spring scavenger hunt: Towards the end of the month, Briar Chapel hosted a 3-day scavenger hunt for residents of all ages. Residents teamed up to solve riddles and uncover clues throughout the neighborhood. 
These events held in April are just a sampling of the many types of activities that Briar Chapel hosts each month and throughout the calendar year. With such a plethora of planned events offered to residents, it isn't hard to see why Briar Chapel has been voted "Best Neighborhood in Chapel Hill" for five years running. Learn more about life at Briar Chapel and check out available homes today. 
---
Located in Chapel Hill, North Carolina, Briar Chapel offers new homes from the $300,000s. Explore Briar Chapel's resort-style amenities, parks, trails, shopping and on-site schools, a community that has been named Best Neighborhood in Chapel Hill for five years running!