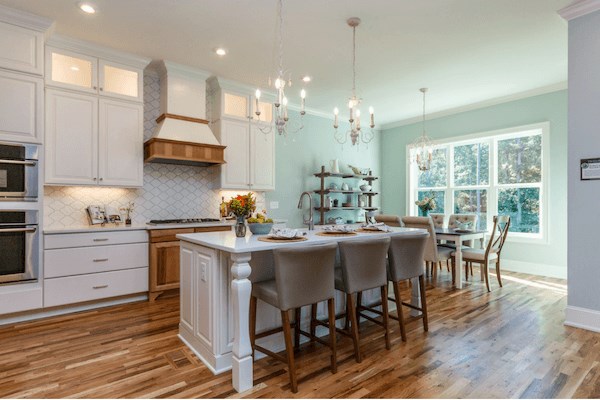 Design Your Dream Kitchen
The kitchen is the heart of the home, where family favorite meals are cooked and messes are made. A lot of time is spent in the kitchen. It's no surprise then that more and more homebuyers are looking for a low-maintenance kitchen that still sports the latest and greatest functionalities and features.
Homes by Dickerson, one of Briar Chapel's award-winning builders, sees buyers looking for appliances and fixtures that have a chic look but still offer durability, abundant storage and an easy clean. In this hallmark kitchen featured in Briar Chapel's Parade of Homes, Homes by Dickerson crafted a dream kitchen that has it all, from double ovens and a deep sink to spotless quartz counters and storage for days.
Here are Homes by Dickerson's top tricks to streamline your kitchen without sacrificing style.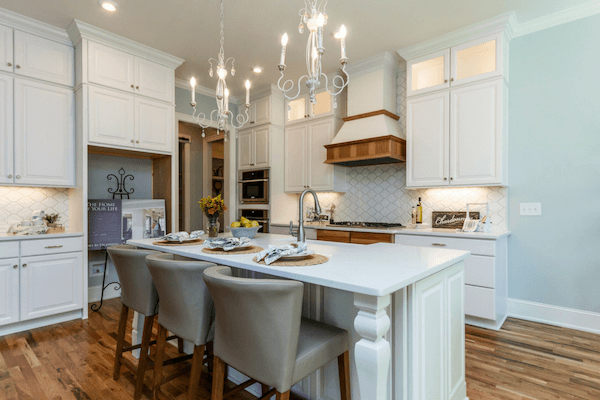 Find the Theme
This one is simple yet oh-so-vital. Chat with a designer about the look and feel you want for your home. Since you'll want a cohesive aesthetic throughout your house, your favorite elements will inform the flow not only of your kitchen but also the adjoining rooms. For example, this model by Homes By Dickerson is called "Chippy Chic," a creative take on the shabby-chic design style.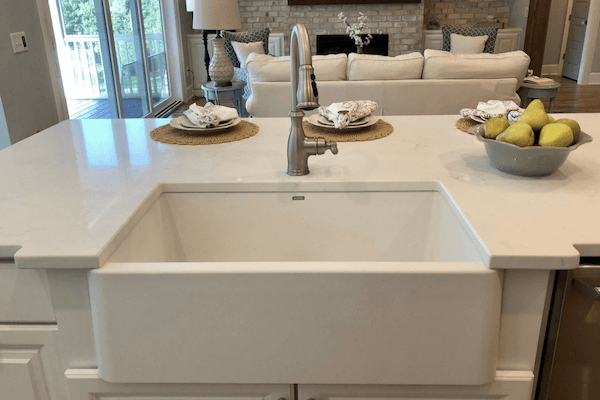 The Quality of Quartz 
More homebuyers are opting for quartz countertops rather than granite. Quartz is a harder material impervious to the common crack, chip or scratch, giving it an A+ for durability. Quartz is also less porous than granite and marble, meaning that red wine, oils or pasta sauce spills are less likely to stain. You won't need to have a quartz countertop resealed once a year, which is the recommended upkeep for granite.
The same goes for the kitchen sink. Many buyers are envisioning traditional farmhouse sinks, which are usually crafted with fireclay or even weaker porcelain. What they don't know is a quartz composite sink, made of blanco silgranit, is roughly the same price but far more durable and won't be chipped or scratched when filled with pots and pans.
Appliances and Organization
A double oven, or one oven with a convection microwave, can make preparing meals and hosting friends a breeze. When it comes to storage, you can increase your space by opting for more drawers and less cabinets, leveraging functional storage. You can also make recycling easier by clearing a drawer for it.
Cabinets on the backside of an island are great for holiday and seasonal items that aren't needed every day. Additionally, you can utilize what cabinets you do have for lighting. LED strip lights under the cabinets offer consistent lighting, providing more light and more energy efficiency to your space.
Whether using mostly drawers or cabinets, you can streamline your kitchen by eliminating steps. Consider an item's functionality, and store similar items nearby. For example, keep wraps and storage containers near a work surface, bowls near the breakfast table and larger knives near the cutting board.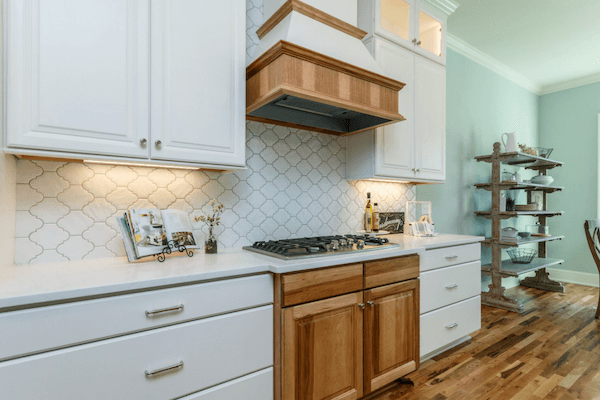 That Something Extra
You can give life to your kitchen with a patterned tile backsplash. To offset your splash of pizzazz, opt for simpler countertops and cabinets to avoid competing patterns. Need an accent? Add detail and decoration to your backsplash by hanging a decorative serving bowl, earthy wooden spoons or a small, winsome mirror.
Add focus to your kitchen by bedecking it with one fabulous statement piece, like the chandeliers used in the Chippy Chic-themed home. Your hallmark element can be a high-quality light fixture, an oversized cushion chair in the seating area, a textured rug or a vintage clock.
Looking to devise your own divine kitchen? Homes By Dickerson, like many of our builders, offers customizable plans. Pop by and meet our homebuilders this week!