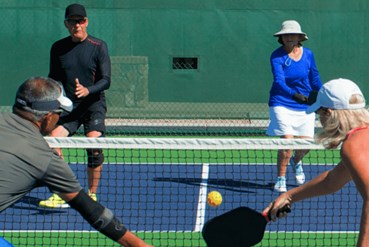 5 reasons pickleball will be your new favorite sport
Have you heard of pickleball? It's essentially tennis, just played on a smaller court, at a slower pace, with less complicated scoring. Over the last few years, pickleball has become increasingly popular with a total of 4.8 million players in the U.S. as of 2021, according to the SFIA 2022 Topline Participation Report. As a result, pickleball courts have been popping up all over communities and becoming a popular pastime. If you're considering trying pickleball, here are the top five reasons people love pickleball.
It's accessible
Pickleball equipment relatively inexpensive, and courts are popping up in all areas, such as parks, schools, tennis facilities and even right in your community. Here at Briar Chapel, we have two pickle-ball courts at The Courts at Boulder Point. There are also five tennis courts, two half-court basketball courts and an open-air pavilion so you can enjoy an afternoon of easy serves and slam-dunks with your neighbors.
It's a social activity
Since pickleball is played on a smaller court, at a slower pace, it is easier to socialize with your teammates and competitors. Playing at a lower energy means you can easily hold a conversation while playing.
It exercises your mind and body
Pickleball is healthy for both your body and mind because it allows you to utilize hand eye coordination, agility, reflexes and balance while not putting too much strain on your body or joints. There are also many known health benefits to consistently playing pickleball, such as lower blood pressure, improvements in cholesterol, boosts in your immune system, improvements in heart health and lower stress levels.
It's easy to pick up
Pickleball rules are very easy to learn, and the sport does not require you to be an intense athlete, making it easy for anybody of any age to pick up. The scoring for pickleball is much more intuitive than tennis. Rather than counting by Love, 15, 30, 40, like in tennis, Pickleball scores increase by one point and are played to 11, but the winning team must win by two and only the serving team can score points. How you earn points is self-explanatory, the only unique rule is that you cannot volley in the non-volley zone.
It can be competitive
Although easy to learn and not as physically demanding as other sports, pickleball can still be extremely competitive. The smaller court makes it easier to keep a rally going, intensifying the competition.
Ready to give pickleball a try? Learn more about The Courts at Boulder Point and all the other amenities you can enjoy in Briar Chapel.
Located in Chapel Hill, North Carolina, Briar Chapel offers new homes from the $400,000s. Explore Briar Chapel's resort-style amenities, parks, trails, shopping and on-site schools, a community that has been named Best Neighborhood in Chapel Hill for seven years running!