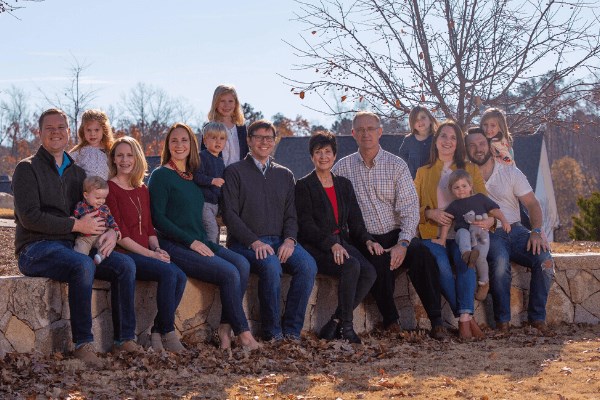 Resident Spotlight: Meet the Youngs
Meet the Youngs … (and so many more)
Terry and Peggy Young give most of the credit to their daughter and son-in-law, Amy and Brian Hueske, for their big move to Briar Chapel approximately three years ago.
Terry and Peggy spent several years commuting from their home in Washington D.C. to visit Amy, her husband Brian and their children. The scenic views and rich cultural life of Briar Chapel sparked casual musings between the Youngs about a potential relocation. When Peggy experienced a medical challenge, the casual conversations turned into more concrete plans, especially when Amy, a nurse anesthetist at UNC Hospital, expressed that she could be more involved in Peggy's future care if she lived closer.
In the meantime, more magic unfolded. Katie and Lee Nestlerode, Terry and Peggy's other daughter and son-in-law, relocated from Chicago and purchased a home in the coves of Briar Chapel. After their son, Colin, moved with his wife Kala from D.C. to South Carolina, it was "the icing on the cake" for the Youngs to move to Briar Chapel and live closer to their seven grandchildren.
With so many members of the family flocking to Briar Chapel, Joel and Barbara Hueske – Brian's parents – wanted in on the fun, making the cross-country move to Briar Chapel from Texas. Shortly after, Lee's mom and grandmother joined the clan in Briar Chapel.
In case you were counting, that makes three generations (and five family units) who fell in love with Briar Chapel and now call it home! (We almost feel like we need a family tree to keep this fun straight!)
In the photo, here's the line up!
Colin and Kala Young, Charlotte (standing) and Camden (on parents' lap)
Katie and Lee Nestlerode, Margot (standing, top) and Owen (standing, lower)
Peggy and Terry Young
Brian and Amy Hueske, Eleanor (top right), Emily (top left) and Vivienne (parents' lap)
Not pictured: Joel and Barbara Hueske


Doing Life Together
The Youngs treasure the perks of living in a community that makes seeing their beloved family easy but not excessive. Briar Chapel's large footprint allows each family to meet neighbors and forge their own friendships while knowing their loved ones are just a short bike ride away. Even coincidental family meetups, like running into each other at the gas station, are valued.
"It's nice being out and about and running into the people you love the most," said Terry. "You get to be part of each other's everyday life."
Connection When Needed Most: Meetups and Mimi Camp
Over the past few months, the Youngs chose to build a custom backyard patio – complete with sitting areas and a seating wall for their grandchildren.
"Our patio is our pandemic lifeline. It is a game-changer for us!" said Peggy. "One of our favorite memories is recently hosting a Saturday morning breakfast with our extended family in the neighborhood. The patio and screened-in porch provided a way for us to see our kids and grandkids while still social distancing. We would have felt so much more isolated if not for our patio!"
Another perk of residing close to grandchildren? "Mimi Camp," a fun-filled week of sleepovers with grandma, daily adventures and cousin bonding. "Seeing my grandchildren forming friendships and wanting to spend time together is one of the great joys of being a grandparent," said Peggy. Sadly, "Mimi Camp" has been cancelled this summer due to COVID-19 but hopefully will return soon!
Why the Youngs Love Briar Chapel
"We had a really good buying experience with Homes By Dickerson, and we were able to customize our home thanks to our excellent design team. The lifestyle here really fits the bill for families and grandparents, and it's easy to notice the quality of the homes, how well-kept the community is and the safe and friendly atmosphere."
Considering the multi-generational bliss that the Youngs enjoy? Peggy has a standing offer to grab a cup of coffee with anyone who's curious about life in Briar Chapel.
In the meantime, peruse our green-built homes waiting for you!
Located in Chapel Hill, North Carolina, Briar Chapel offers new homes from the high $200,000s. Explore Briar Chapel's resort-style amenities, parks, trails, shopping and on-site schools, a community that has been named Best Neighborhood in Chapel Hill for five years running!