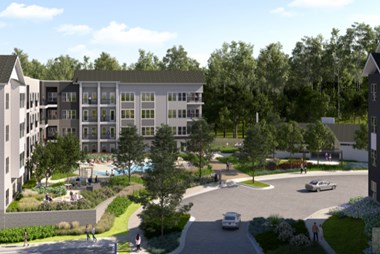 Introducing Briar Chapel's brand-new apartment community – Knoll at Briar Chapel!
We are so excited to announce that Knoll at Briar Chapel apartments are now available for pre-leasing!
Knoll at Briar Chapel
Elevated living nestled in nature, Knoll at Briar Chapel is the area's first community of its kind. The brand-new apartments will offer 200 elegant and modern farmhouse chic rental units with easy access to all the amenities and necessities you could want.
"Knoll at Briar Chapel is managed by Bell Partners, and we follow their purpose to create communities our residents are proud to call home," said Jennifer Sykes Roe, Community Manager, Knoll at Briar Chapel. "We hope to achieve this by honoring our commitments to our residents with excellent and responsive customer service. Come experience an idyllic setting and a warm welcome at Knoll at Briar Chapel!"
Floorplan
Knoll at Briar Chapel offers 18 different studio-, one-, two- or three-bedroom layouts ranging from 615 square feet to 1,447 square feet. Each apartment has 1-2 bathrooms, a gourmet kitchen and a private patio or balcony.
Design
The modern apartments are designed with comfort in mind and inspired features. Each apartment floorplan includes warm wood-style plank flooring in the living spaces, beautifully textured neutral carpet in the bedrooms and a gourmet kitchen featuring rich grey cabinetry, stainless steel appliances, pendant lighting, countertop islands and tile backsplashes.
Amenities
While living at Knoll at Briar Chapel, you'll be surrounded by nature, yet within easy reach of everything you could need. Briar Chapel is less than 10 miles from Chapel Hill and has several conveniences, such as a Food Lion, 501 pharmacy, several restaurants, Carolina Convenient Care and multiple schools, right here in the community.
Knoll at Briar Chapel residents can enjoy a variety of amenities that will help you relax, recharge and reconnect.
"We are excited to become a part of the Briar Chapel community and to be a part of the growth that the area is seeing," said Jennifer Sykes Roe. "We strive to provide a setting unlike any other in which our residents will have several amenities to enjoy, including a pool, fitness center, workspace lounges and several outdoor areas where they can take in the beautiful, wooded surroundings that Knoll at Briar Chapel has to offer."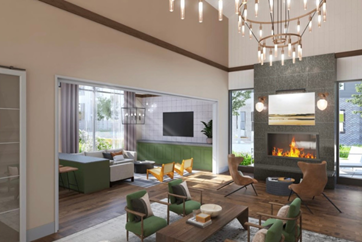 Ready to move in?
Visit the Knoll at Briar Chapel website or contact knoll@bellpartnersinc.com to learn more!
Located in Chapel Hill, North Carolina, Briar Chapel offers new homes from the $400,000s. Explore Briar Chapel's resort-style amenities, parks, trails, shopping and on-site schools, a community that has been named Best Neighborhood in Chapel Hill for seven years running!