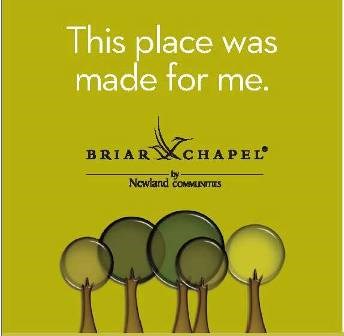 Welcoming Earth Day at Briar Chapel
By Shannon McSwiney
Marketing Manager, Briar Chapel
Earth Day is almost here and we are especially excited at Briar Chapel!  If you've joined us in the past – you know you're in for a treat! Come early and stay late this year as we celebrate all things local. The day kicks off with the 4th Annual Briar Chapel and Abundance Foundation 5k – racers will enjoy a new course this year! As always, proceeds benefit The Abundance Foundation.
On our favorite day of the year, we like to take theopportunity to place special emphasis on the things we do in our homes and community on a daily basis to be green and sustainable – this year we will highlight our local businesses, performers, entertainers and farmers in a local bazaar where you can eat and shop GREEN! Hang out in Briar Commons Park beginning at 3pm for local treats and eats and complete the evening with a movie under the stars – enjoy the Pixar film Wall-e on the Briar Commons Lawn.
If you've been following our #BCBestBuddy contest, you'll also find out who the winner is during our evening celebration – what a great contest this has been – the winner walks away with a cool Buddy Scooter!
We hope you'll stop by Briar Chapel on April 21st and celebrate Earth Day with us – to learn more click here.