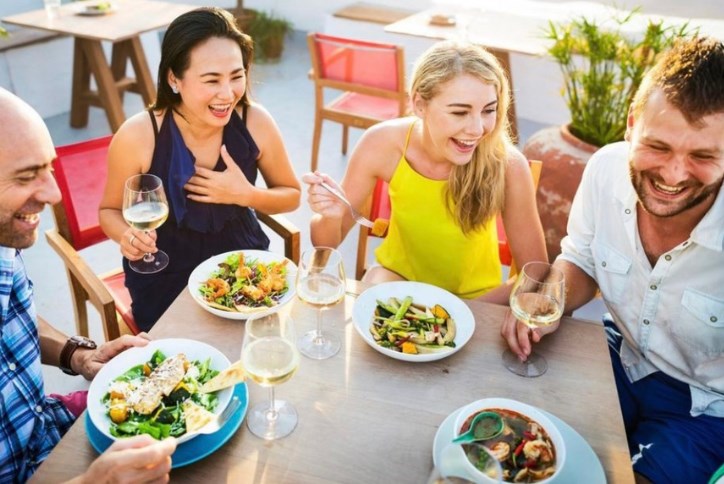 National Wine Day: Places near Briar Chapel to grab a glass of vino
Mark your calendars, we heard through the grapevine that National Wine Day is May 25! Here are our top recommendations for where to sip and celebrate this National Wine Day.
Wine and dine
Elements Restaurant and Wine Bar
Elements is a high-end restaurant known for elegance and sophistication. Elements believes that the perfect dining experience involves the perfect wine or cocktails, and it's got an Award-Winning Wine List with wines from around the world to prove it.
Lantern is one of Chapel Hill's most acclaimed restaurants and is named one of "America's 50 Most Amazing Wine Experiences" by Food & Wine. Lantern's wines are produced by sustainable practices and pair perfectly with its world-class menu that blends a variety of East Asian flavors and hyper-local sourced ingredients.
Glasshalfull is a Mediterranean-inspired restaurant, bar and wine shop that believes every great glass of wine should be accompanied by a delicious meal. Made with the freshest local ingredients, Glasshalfull offers a variety of healthy cuisines along with a diverse selection of wines to enjoy by the taste, glass or bottle. Glasshalfull also carries nearly 300 wines from small producers in France, Italy, Spain, Austria and more in its wine shop.
Sip and celebrate
La Vita Dolce is a wine and coffee shop that hosts Wine Down Wednesday every Wednesday from 5-8:00 p.m. April 6, 2022 – October 26, 2022. Grab the whole family and head over to 610 Market Street to celebrate National Wine Day Wednesday, May 25, and enjoy live music, gelato and wine specials on the La Vita Dolce patio. La Vita Dolce offers 30% off wine by the glass and 50% off wine by the bottle during Wine Down Wednesday. Andrew Kasab will be playing on National Wine Day, and you can view the entire live music lineup on the La Vita Dolce website.
Home is where the wine is
Looking to stay close to home? Grab a glass of wine and a slice of pizza at Capp's Pizzeria right here in Briar Chapel and enjoy it on the patio or by an outdoor fireplace in the Veranda. Capp's Pizzeria offers a variety of white, sparkling, rosé and red wines.
Hosting at home for National Wine Day? Grab your favorite bottle of wine from Chapel Hill Wine Company, one of the top bottle shops in the area. Chapel Hill Wine Company's shelves are stocked with high- and low- end wines from all over the world. With a selection that represents nearly every winemaking region and a well-informed staff, Chapel Hill Wine Company is a great place for both new wine-lovers and seasoned wine enthusiasts.
Wine weekend
Busy on National Wine Day? Celebrate over the weekend at one of the wineries nearby!
Only 20 minutes from Briar Chapel, Cloer Family Vineyards is the only family-owned farm in the immediate Triangle area that grows its own grapes and produces its own wines on-site. The land is tucked away in a pine forest and has rows and rows of muscadine grapes imported from Western North Carolina along with a big red barn that houses the winery, shop and tasting room.
Chatham Hill Winery, only 37 minutes from Briar Chapel, was the very first winery in the Triangle and is known for its distinctive, clean and handcrafted wines that are aged, blended and bottled in-house. Chatham Hill Winery's wines are produced using traditional methods that simply assist nature in turning grapes to wine.
Tag us on Instagram, @briarchapel, and let us know how you'll be spending National Wine Day!
Located in Chapel Hill, North Carolina, Briar Chapel offers new homes from the $400,000s. Explore Briar Chapel's resort-style amenities, parks, trails, shopping and on-site schools, a community that has been named Best Neighborhood in Chapel Hill for six years running!