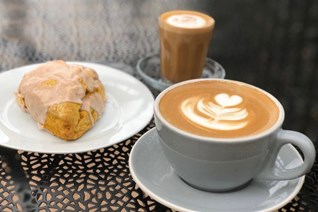 7 Top Brunch Spots in Chapel Hill
They say breakfast is the most important meal of the day, but why does it have to be so early? If you've woken up craving pancakes or eggs at 11 a.m. on a Saturday before, you need to know about these brunch spots. Here are the top places to get brunch in Chapel Hill, because brunch is always a good idea.
Breakaway Café – 58 Chapelton Court chapel Suite 100
Located right here in the Veranda, Breakaway Café is one of our personal favorites and has also been named one of the best breakfast/brunch places in Chapel Hill by Chapel Hill magazine! Breakaway Café creates all its dishes with the finest ingredients from ethical sources. Its menu includes omelets, benedict, scramble bowls, breakfast burritos, a variety of toast and more.
Breadman's – 261 S Elliot Rd
Breadman's has been a Chapel Hill tradition since 1974 and is known for serving breakfast all day. No matter what time it is, enjoy biscuits and gravy, omelets, Belgian waffles, pancakes, French toast and more at Breadman's.
Crossroads Chapel Hill – 211 Pittsboro St
A hidden gem in The Carolina Inn, Crossroads Chapel Hill offers a dining experience unlike any other featuring North Carolina cocktails and cuisines made with locally sourced ingredients. Crossroad Chapel Hill's breakfast and Sunday brunch menu includes omelets, pancakes, breakfast sandwiches, avocado toast, The Carolina Inn Benedict, a signature Crossroads Breakfast and more.
Sunrise Biscuit Kitchen – 1305 E Franklin St
Sunrise Biscuit Kitchen has been known for providing Bigger Better Biscuits based on the founder's grandmother's recipe for breakfast and lunch since 1977. The Award-Winning drive-thru location in Chapel Hill is a must-eat for any Chapel Hill native or visitor. Along with biscuits and cinnamon rolls, Sunrise also serves hamburgers, hotdogs, barbeque, chicken salad and tuna salad.
Coco Espresso, Bistro & Bar – 101 Glen Lennox Dr
Coco is a fully plant-based coffee shop by day and bar by night known for its delicious and sustainable food and drink options. Coco serves breakfast all day long and has a variety of tasty options to choose from, such as breakfast power bowls, avocado toast, hazelnut chocolate and banana toast, smoothies and more.
The Root Cellar Café & Catering – 750 Martin Luther King Jr. Blvd
Known for its scratch-made food and fresh ingredients, The Root Cellar Café & Catering is open daily from 8 a.m. to 3 p.m. and has an all-day breakfast menu you won't want to miss. Stop by and enjoy RC's borracho bowl, eggs benedict, farm plate, vegan breakfast sandwich or pancakes.
Carolina Coffee Shop – 138 E Franklin St
Located in the heart of downtown Chapel Hill, Carolina Coffee Company is North Carolina's oldest restaurant. Carolina Coffee Company embraces it's North Carolina roots and puts a modern twist on old southern classics. It is open daily from 8 a.m. to 3 p.m. and serves breakfast, brunch, lunch, dinner and drinks at all times. CCS's brunch menu includes oatmeal banana pancakes, CCS signature cornflake French toast, chicken and waffles, smashed avocado toast, biscuits and gravy and more.
Looking to move to the Chapel Hill area? Check out our available homes at Briar Chapel.
Located in Chapel Hill, North Carolina, Briar Chapel offers new homes from the $400,000s. Explore Briar Chapel's resort-style amenities, parks, trails, shopping and on-site schools, a community that has been named Best Neighborhood in Chapel Hill for seven years running!