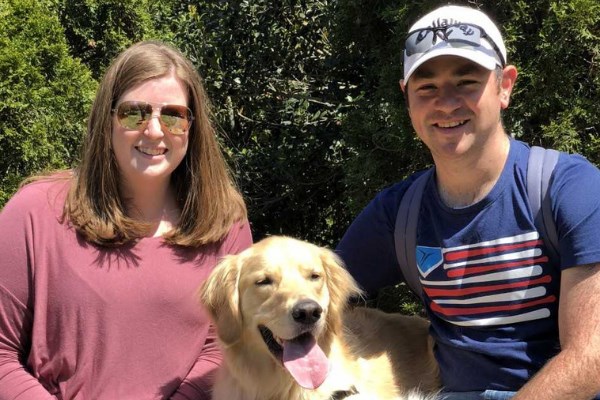 Resident Spotlight: Matthew and Sarah Parunak
Meet Matthew and Sarah Parunak -- avid Tar Heel fans and five-year Briar Chapel homeowners. From tune-filled events to puppy-friendly parties, this couple adds a little extra pizzazz to our community!
The Hills (of Briar Chapel) Are Alive with the Sound of Music
Matthew and Sarah originally moved to Briar Chapel to be closer to the University of North Carolina at Chapel Hill, where Sarah works as a pharmacist in the oncology department.
While Sarah is passionate about health sciences, Matthew's interests are rooted in music. Music is a big part of his life, from his career to the third member of their family, a golden retriever named Maestro.
Matthew is a freelance musician and music teacher. Currently, he is the music director for Orquesta K'Che Salsa band, and he plays bass trombone for the Durham Symphony Orchestra. If you are in need of a good musical group for your next party, you're in luck. Matthew is also the founder of Tobacco Road Trombones, a community trombone ensemble that rehearses and performs in the Triangle area.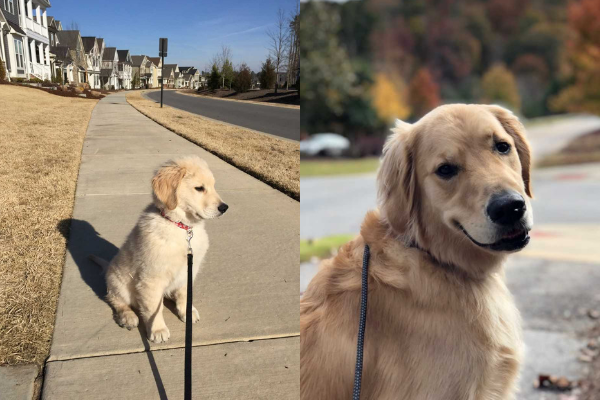 Friends for Life
When Matthew and Sarah started looking for a place to live, they were drawn to Briar Chapel. They liked the close proximity to Sarah's work and big neighboring cities, as well as the serene, rural location that was the perfect distance from everything they needed. Most importantly, they were impressed with the strong sense of community that Briar Chapel offered.
"People are easy to talk to here, and if you need something, people are always willing to help you," Matthew said. "I feel like we know a lot of people, whereas at places we've lived in the past, we didn't really know our neighbors."
One of their favorite things about living in Briar Chapel is getting to meet and interact with residents who have similar interests. Maestro also enjoys the meet and greets, as there are lots of other dogs to play with in the community. On hot days, Sarah and Matthew will invite their friends with dogs over, and the pups swim around in Maestro's very own kiddie pool.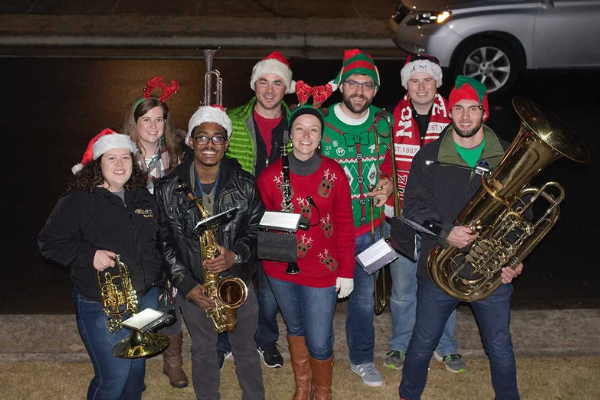 Christmas Carols
If you haven't met Matthew and Sarah yet, there's a chance you might've heard them at Christmas. One of Matthew's favorite traditions is Christmas caroling in Briar Chapel. A few Sundays before Christmas, Matthew and Sarah will coordinate with several of their musician friends, and they send out an email to see who is interested in having carolers come sing.
"We carol for almost three hours around the older part of the Great Meadow side of Briar Chapel, and we go to around 30 to 40 homes," Matthew said. "We really enjoy it, and many of the residents will give us cookies and cider." Be on the lookout for this talented group of carolers next December!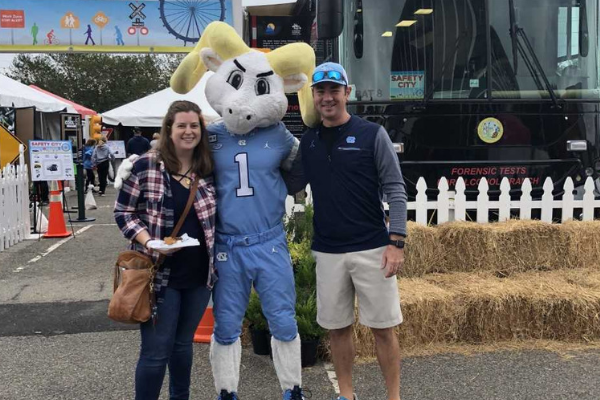 As for their decision to live in Briar Chapel, Sarah and Matthew couldn't be happier. They both love the trails through the neighborhood, so next time you're walking, be sure to keep your eyes peeled for this wonderful family and their furry friend Maestro.
Are you interested in sharing your experiences as a resident in Briar Chapel? You could be the next resident spotlight! Contact Jessica Collins at jcollins@newlandco.com.