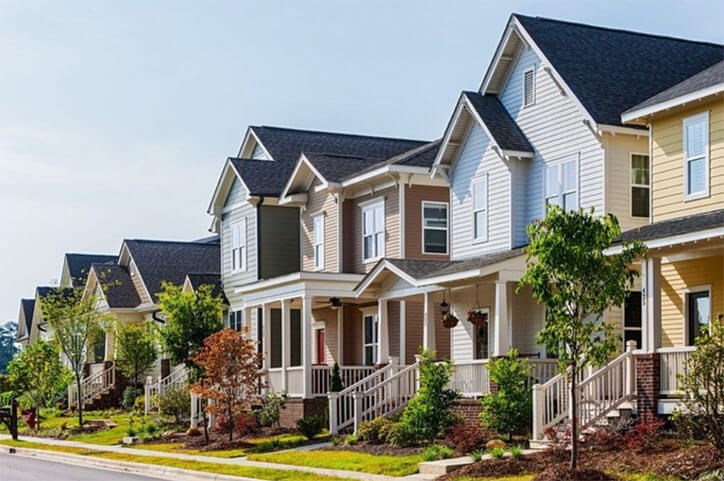 Briar Chapel home buyer FAQ
Are we still building?
We sure are. And there's something for everyone. The last phases of Briar Chapel offer great diversity. Enjoy townhome living at its finest with our David Weekley townhomes. Conveniently located in the front of Briar Chapel, close to the Veranda.
Maybe single family living is more your speed. Check out what Homes by Dickerson has to offer with their semi-custom homes fit for any family.
Our grand finally? Briar Chapel is currently in the process of completing its final phase, firmage. This phase will include 15 completely customizable home lots from McNeill Burbank and Homes by Dickerson. The two-story homes offer spacious floorplans composed of 3-6+ bedrooms, 3-4 bathrooms, 3-car garages, porches and more.
What size are the lots in firmage?
The firmage lots will be the largest lots offered at Briar Chapel, at a minimum of half an acre of land and homes reaching 4,500+ square feet. The homes are in a private enclave with beautiful greenspace and wooded surroundings.
What builders are in Briar Chapel?
Briar Chapel has a variety of homes from builders such as, David Weekley Homes, Homes by Dickerson and McNeill Burbank.
How far is Briar Chapel from downtown Chapel Hill, UNC and RDU Airport?
Briar Chapel is:
Eight miles, or 18 minutes, from Chapel Hill
Seven miles, or 13 minutes, from UNC
5 miles, or 35 minutes, from RDU airport
What amenities are available in Briar Chapel?
Briar Chapel has numerous amenities for residents to enjoy such as, a water park, a fitness center, indoor space for parties, an outdoor cabana, a playground, an event lawn and more.
Briar Chapel is also home to several restaurants, retail shops and other conveniences located in the Veranda, the "front porch" of the community. At the Veranda you can pick up a prescription, have your teeth cleaned, grab a slice of pizza or sit back and enjoy a glass of wine while listening to live music.
The Veranda includes:
Briar Chapel will offer even more conveniences at The District, an exciting new venture that will be home to apartments, senior living, a college, restaurants, medical facilities, Food Lion and more.
Have a question we didn't answer? Call us at 919.951.0700 or send us an email!
---
Located in Chapel Hill, North Carolina, Briar Chapel offers new homes from the $400,000s. Explore Briar Chapel's resort-style amenities, parks, trails, shopping and on-site schools, a community that has been named Best Neighborhood in Chapel Hill for six years running!