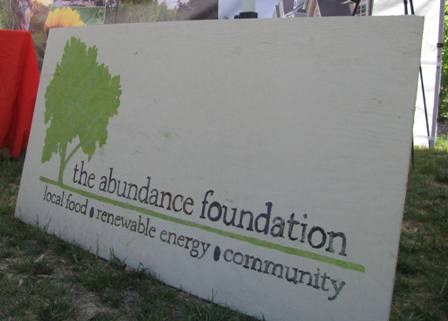 Briar Chapel 5k: What It Means to Us
Today's blog post is from one of our community partners, Tami Schwerin, who is the Executive Director of The Abundance Foundation.  Before joining Abundance, Tami was President of the Board of Chatham Marketplace, Pittsboro's amazing co-op grocery store. She lives in Moncure with her two children, her two dogs and her husband, Lyle Estill.
Running a 5K is really easy for some, like our Program and Development Director, Jenny Schnaak.  She hardly breaks a sweat.   For others, like myself…it takes some courage, some preparation and some competition.  It's really only 3.2 miles, and it is on a beautiful course through Briar Chapel; lots of people are doing it!  You have to turn off the computer, make a running schedule and get your body into shape!  It takes a few weeks before you start looking forward to it, but magically, it does happen where you feel that burst of endorphins. You notice that your day goes smoother on a day that you run.  It is completely worth it!
Our goal is to introduce people to new topics and encourage them to take the next step, whether that is installing solar panels, getting a "green" job, taking steps to reduce their waste, conserve energy or plant a garden.  We find people are hungry to learn and to make changes to increase their family's health, their environment's health and their spirit's health.
It is all of our responsibility to begin educating ourselves, and I would argue that a healthy lifestyle ties into sustainability.  When your body is in shape, you tend to eat healthier, think clearer, make better decisions, and are happier. Our personal health is connected to our planet's health.
Join us for a run at Briar Chapel on April 20th.  Or for one of our workshops.  Or at one of the many Abundance Foundation events in your community.