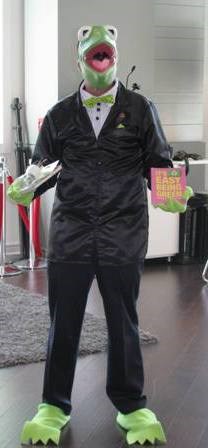 Blogging with the Frog - The 2nd Installment
by Gian Hasbrock,MIRM, MCSP, CGP, CRS
Coldwell Banker Advantage New Homes
Hungry Your body can go without food for three weeks. But without water, after three days you will start to run down. And for most of us, we can't survive three minutes without air. So at Briar Chapel we stress the quality of air and water in building your high-performance home. And we are so efficient at doing so that homebuyers will recognize 15% lower energy costs through the Energy Star certification program. Want to go a bit further The sky is the limit, but just knowing that your new Briar Chapel home is certified at least a minimum of bronze level should give you confidence in your purchasing decision.
Here's five things you can do to increase your water quality, reduce your water bills, and help the environment while doing so.
Get certified EPA Water Sense fixtures such as faucets, showerheads, and toilets. Bathroom faucets should flow at a maximum rate of 1.5 gpm (gallons per minute). Kitchen faucets should flow at no more than 2.2 gpm. Showerheads should flow at 2.5 gpm. And the overall water pressure to the home should be no more than 60 psi (pounds per square inch). Toilets should be 1.5 gpf (gallons per flush). Consider alternative flushing systems for number one or number two.

Dishwashers and clothes washers should be Energy Star qualified for saving on both electricity and water use.
Hot water delivery systems should be high-efficiency electric, quick recovery gas, or tankless gas. Central manifolds, recirculating hot water and instant-hot water delivery systems should be considered to complement the main system.
Storm water management systems, like gutters and downspouts, should be carefully planned to keep the water on the site where possible. Rain gardens create a paradise for water loving plants. Cisterns and rain barrels are some of the tools to augment the main storm water evacuation system and lend themselves well to recycling for irrigation.
Irrigation systems should be used instead of relying on sprinklers or hoses, but they should be used minimally. Turf should be no more than 40% of the total landscaped area. The type of sod shouldn't be a water hog. Zoysia grass is a special variety of weed-resistant Bermuda grass that uses much less water than conventional Fescue. Slopes should be vegetated. And ornamental water features are not only beautiful; they can recirculate water for beneficial results, like birdbaths. Grey water is recycled from sinks, dishwasher, and clothes washer effluent, filtered and reused for irrigation.
Gasp, what about air For many years studies were indicating that indoor air was more polluted than the worst outdoor air. That's because our homes were so tightly insulated and sealed that some harmful substances, like volatile organic compounds found in paints and carpets, were literally killing us. Today's high performance homes have caught up on heating/ventilation/air conditioning systems (HVAC) so that our homes today are far healthier than they were just ten years ago.
Here are five tips to guaranteed improved indoor air quality.
Sealed crawl spaces. This is a major advance in construction science and building code around the nation now recognizes the validity of conditioned, sealed crawl spaces. Compared to the former standard of a ventilated crawl space, the new conditioned crawl prevents the growth of toxic mold and guarantees improved energy efficiency. The differential between conditioned and unconditioned spaces in a ventilated crawl space creates weather, literally, under your house. The penetration of unconditioned air from the crawl space is inevitable in all but the most efficiently sealed homes. What's coming in is not "fresh" air.
Today's high efficiency HVAC systems are a major upgrade from the standards of just five years ago when a SEER (Seasonal Energy Efficiency Rating) of 10 was the norm. Today's 13-SEER systems are designed to operate effectively to cool and remove humidity from your home. With either next generation high-efficiency heat pumps or natural gas furnaces combined with the increased insulation effectiveness, many of our homeowners in 3000 sf homes are reporting average gas/electric bills of $125-$150 a month.
Filtered ventilation is an integral part of these new systems. This brings in truly fresh air. If you've ever opened your windows in the spring and found the bedspread covered in yellow, you will welcome this new concept of ventilation. And while we are talking about filters, change yours often. Avoid the most powerful 90-day filters that claim they can catch a microscopic virus. It makes for a great marketing statement but can strain your HVAC system.
Use building materials that do not leach poisons into the air. Recommendations include low-VOC paints and polyester carpets with recycled materials. Unrecycled nylon carpeting uses formaldehyde, an important component of embalming fluid. Scary!
Blower door tests insure your system is in fact the closed system it is designed to be. A leaky house will not only cost money, it could let in outdoor pollution too. It turns out the only thing duct tape is inappropriate for is for sealing ducts! Today's systems also prevent both negative and positive air pressure buildup, which can adversely affect your health. Simply by balancing airflow with more returns than the traditional system, including unfiltered pass-throughs act like transoms insuring your teenager behind that closed door is not suffering from positive air pressure from an unbalanced supply.
That's all from your favorite amphibian. Tune in next time to the Briar Chapel Frog Blog for more "Green" tips. Let us know about your green building experience and ways you have learned to save on water, air or energy costs.