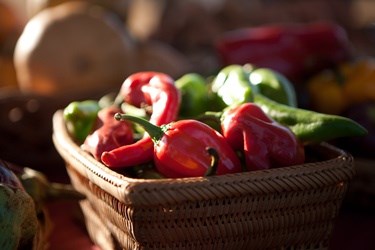 Pepper Festival '12 Will Be Best Yet!
Jami Pearson
Marketing & Event Coordinator
It's almost that time of year, y'all! That's right, Pepper Festival '12 is just around the corner and it promises to be the best one yet!
For those of you who aren't familiar, the 5th Annual Amazing Pittsboro Pepper Festival began with just a group of friends and family as The Abundance Foundation tasted peppers and recorded their data for farmer Doug Jones of Piedmont Biofuels.  He is a renowned and award-winning research and teaching farmer who grows over 100 varieties of peppers.  Wow!  As several years and festivals came and passed, music and chefs were added, which led to an increase in ticket sales. In the event's 4th year and in need of more space, it was decided that the festival would be held at Briar Chapel's newest park, Briar Commons. Now, it has evolved into something truly wonderful and is a blast for both children and adults alike!
This year's event has 35 participating vendors, which is 10 more than last year. To name a few, new participants include Six Plates, Heron's and Escazu Artisan Chocolates. How exciting! Pepper Festival isn't just about fantastic food either. Groups Diali Cissokho & Kaira Ba and The Free States, along with Justin Johnson will each serenade attendees as they chow down on all sorts of peppery goodness. Free for children under the age of 12, the day will also include face painting, big bubbles and The Vegetable Circus.
If you're still on the fence about coming, check out these pictures from last year's event. If they don't convince you, I don't know what will!