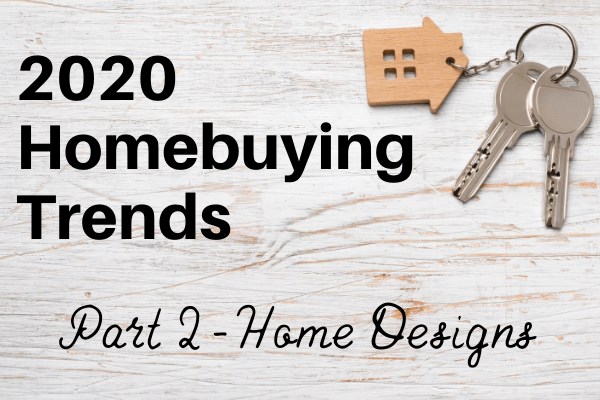 Part 2: 2020 Homebuying Trends - Home Designs
The residential real estate market is once again transitioning to respond to America's burgeoning priorities – efficiency, accessibility, flexibility and safety.
In Part 2 of our four-part series, we explore how growing trends reveal a demand for revised home designs … and what this means for you as a buyer!
Home Designs
More Space with More Uses
As families have transitioned to work from home, houses are being stretched to accommodate a gamut of activities beyond traditional domestic tasks. Adults cobble together a remote office, while the kids splay out at the kitchen table for their homeschooling endeavors. As a result, builders and developers alike are witnessing a trend toward larger homes with more square footage. Previously prized open floor plans have been supplanted by a collection of smaller, flexible spaces that require quiet and privacy.
The Fairfield model by Homes By Dickerson – a Briar Chapel builder -- showcases a prime example of multi-functional nooks and crannies. The dining room can be transformed into a full-fledged home office, while the upstairs recreational room provides an enclosed classroom for children. Homebuyers often opt to finish off the third-floor storage area to create an exercise room or convert the floorplan's spacious closet into a retreat for video conferences or podcast recordings. Bedrooms, too, have shifted from the opulent master-suite sprawl to smaller, functional sleeping quarters.
While adding space solves most challenges, home prices and increasing construction density can make bulking up sometimes impractical. Here, necessity drives design, and flexibility is the common denominator. Homebuyers will be selecting design priorities based on functionality to accommodate work/life activities in a single abode.
Storage in Spades
With space at a premium, floorplans will streamline to convert extraneous square feet into creative storage. Kitchen storage has always been a design priority, and the accelerating market trend suggests that two pantries will soon be the norm: one for daily use and the other for bulk storage, minimizing trips to the grocery store. A heightened sensitivity to hygiene and cleanliness has sparked a demand for mudrooms combined with laundry functions. Utility sinks will enjoy a second life as a hand-washing station, perhaps with motion sensor plumbing fixtures for touchless use. With minimized commutes, families will be able to opt for fewer cars, opening the garage to multiple configurations for a home gym or stacked storage units.
The Prominence of Porches
Amidst stay-at-home routines, front porches or courtyards offer the opportunity to participate in neighborhood life from a position of distance and safety. Trending floorplans feature expansive functional patios designed to accommodate chairs, benches and tables along with utilities. This outdoor space serves as an extension of the indoor footprint, allowing family members to spread out and enjoy fresh air during work and play hours. Porches also provide safe, convenient conveyance zones for delivery personnel to drop off no-contact packages.
"Our patio is our pandemic lifeline. It is a game-changer for us!" said Peggy Young, a Briar Chapel resident. "One of our favorite memories is recently hosting a Saturday morning breakfast with our extended family in the neighborhood. The patio and screened-in porch provided a way for us to see our kids and grandkids while still social distancing. We would have felt so much more isolated if not for our patio!"
Looking for your own haven with spacious patios and flexible living spaces?
Check out the homes at Briar Chapel!
---
Located in Chapel Hill, North Carolina, Briar Chapel offers new homes from the high $200,000s. Explore Briar Chapel's resort-style amenities, parks, trails, shopping and on-site schools, a community that has been named Best Neighborhood in Chapel Hill for five years running!