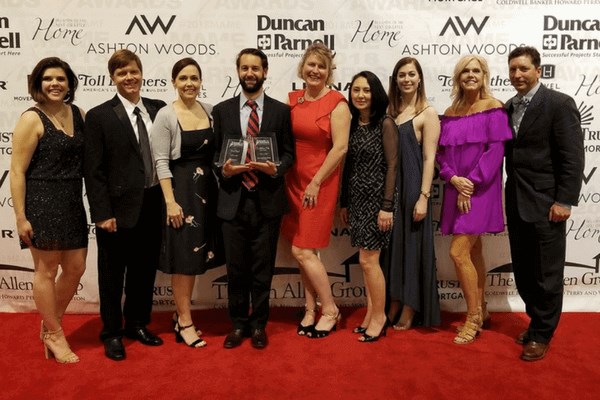 Briar Chapel Wins "Best Land Plan" and "Best Landscape Design"
Our heart and soul at Briar Chapel revolves around our community – the residents and families that call this place home. Our community isn't just a neighborhood of just state-of-the-art amenities, open spaces and premium green homes. More importantly, Briar Chapel is marked by the vibrant lifestyle our residents have fostered here.
So we were honored to receive recognition from the Home Builders Association of Raleigh-Wake County at 2018 Major Achievements in Marketing and Excellence (MAME) Awards for Briar Chapel's thriving community! Briar Chapel received the 2018 MAME awards for "Best Land Plan" and "Best Landscape Design for a Community," featuring our new Constellation Park.
We also congratulate our sister community, Wendell Falls, who received the 2018 MAME Award for "Best Brochure," as well as all of our partners and builder teams:
Terramor Homes
Best Commercial – Radio
Sales Manager of the Year: Leslie Murr, Terramor Homes
Superintendent of the Year Level 3 – Volume 51+ Total Homes Closed by Individual: Ernie Holden, Terramor Homes
Garman Homes
Best Model Merchandising for a Detached Home with a Sales Price of $475,000 - $550,000
Best Product Design for a Detached Home with a Sales Price of $350,000 -$400,000
Rookie Salesperson of the Year: Hunter Davis, Garman Homes
Salesperson of the Year: Katelin McCarthy, Garman Homes
Encore by David Weekley at Briar Chapel
Best Community Recreation Facility, Private or Public
Best Outdoor Living Space – Production Builder
Homes By Dickerson
Best Custom Home Design for homes 2501-3500 sq ft.
Best High Performance Home
Sales Team of the Year Multiple Communities: Peter Winkler, Diandra Buckheit, and Susan Ferdon, Homes By Dickerson
Internet Sales Counselor of the Year: Whitney White, Homes By Dickerson
Check out all the chatter and experience Briar Chapel for yourself! Sign up for our Resident for a Day program to explore our parks, trails, water park and on-site dining and shopping!