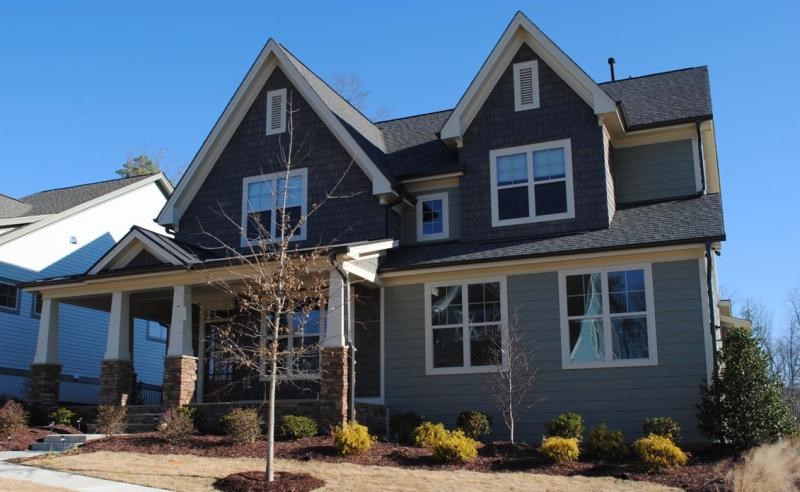 Homes by Dickerson's Homeowners Tell Us What Helped Make Their Decision
By Heather Campbell
Homes by Dickerson strives to make the home buying experience an enjoyable one for their customers.  Based on the comments of Brian and Chandra, some of Homes by Dickerson's newest homeowners, it's clear their experience was enjoyable.  What are some of the most memorable experiences when purchasing their new home?  "While being relocated to the area was a dream-come-true, it was a little overwhelming!" Chandra told me.  "We did not know anyone or anything about the culture of the Chapel Hill area.  When we walked into the Homes by Dickerson model, Rob Jamison was so friendly and welcoming, we felt like we were moving to the right place.  It took us a little bit of time to look around at other places but we just kept coming back to Briar Chapel and Homes by Dickerson.  And Rob regularly sent us pictures during our home building when he knew that we had not been out to see progress in a while.
 "I asked what they would say about Homes by Dickerson to a friend, relative or acquaintance in the market for a new home.  Chandra said "We have had nothing but outstanding things to say about our experience.  I would absolutely recommend Homes by Dickerson to anyone who asks.... I even tell potential buyers to pick Homes by Dickerson if I am outside when they come to look at homes near me!  Everyone went out of their way to make our experience positive. Rob Jamison was just all around fantastic.  He was always available to help us and be a friendly face.  Elizabeth Klosterman offered great suggestions and was a huge help in selecting some of the features of the home."When asked what helped them decide Homes by Dickerson was the perfect builder for their new home in Briar Chapel, Chandra noted that the builder had a number of different home options that matched their needs, particularly the Bristol, which suited them perfectly.  "They were very willing to work with us and make it feel like a custom experience.  Rob Jamison's willingness to answer our questions promptly made us feel valued, further confirming our decision."
What is their favorite feature of your new Home by Dickerson home?  Brian noted the screened-in porch with cathedral ceilings and indoor/outdoor fireplace while Chandra pointed out that the open kitchen/family room area is so cozy and fabulous for entertaining.  "I love the windows that overlook the green spaces!" she says "And I surely can't forget to mention the huge screened in porch!"  They definitely agree on that, and on having made Homes by Dickerson their builder of choice.
Next week, we'll have a treat for you, as you'll have the honor of hearing from Homes by Dickerson's president himself, Linwood Strickland.  Until then, visit our website to see all that this great builder has to offer.