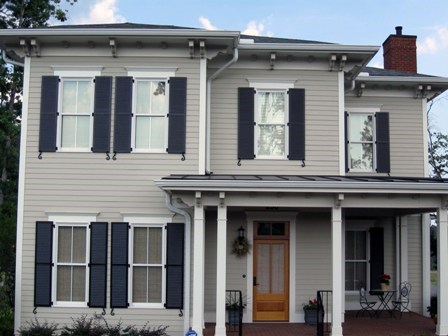 Why New? Why Now?
By John Dunning, Homefront Builders
Gian Hasbrock, MIRM, MCSP, CGP, CRS
Today's blog is brought to you by one of our custom builders, John Dunning of Homefront Builders, along with Builder Representative, Gian Hasbrock. John is going to discuss the appeal of design of homes to today's buyers.
Every economic downturn in the last eighty years has shown a marked change in buyer preferences before the downturn compared to preferences once the recovery was in full swing. This contraction is no exception. Just five years ago, Green was a small niche for tree-huggers only. Not any more. Green is now going mainstream and will be the new normal within the next ten years. Where energy use is concerned, frugality is the new luxury. And people are starting to realize that they really can make a difference in saving the environment with little personal steps like making their housing choices Green.
As the recovery gains steam, it seems that the homes that appeal to buyers the most are well designed both inside and out, situated in thoughtfully conceived neighborhoods. Buyers have gotten used to custom fit and finishes that were formally the province of only the very rich. They are embracing the idea of the not-so-big-house as espoused by Raleigh architect Sarah Susanka. Today's buyers would rather have all the finishes and benefits of features important to them and are willing to exchange unneeded square footage for quality design. Community design is contextual and well integrated with its surroundings. Lifestyle becomes an art form in and of itself.
What is quality design It delivers added value at acquisition and throughout the ownership experience, as well as higher resale value. Good design is timeless and holds its value over bad design or trendy features. Good design is not intrusive. You do not feel the breath of the designer. When you do that's over-design. When buyers see proper design they know it intuitively. When it is deconstructed there are certain characteristics that show up repeatedly. The architecture seems authentic, not phony.  Features are added for a reason or they are not used. They connect with each other and this sense of the elements being integrated is what buyers appreciate.
Not everyone who wants to tell time wears a Timex. Some wear a Rolex. Both tell time. But when people make a purchase, even of a watch, they are making a statement about themselves. This is magnified when buyers consider their next housing purchase. They want their purchase to say something about what's important to them aside from having shelter from the elements. And today's buyers instinctively appreciate architectural authenticity. Some buyers also appreciate a level of service in the acquisition process that acknowledges their appreciation of detail and insists on an exhilarating purchasing experience that truly delights the new homeowner.
That's the buyer who is finding us at Briar Chapel Custom. Check out our models and our burgeoning streetscape. You will join other innovators and pioneers who have said, "Yes, this is the place!" You cannot get this in most existing neighborhoods which were built to a different set of buyer preferences. With the lowest interest rates in history it is truly time to buy new and buy now . . . at Briar Chapel.
Thank you, John and Gian, for your insights. To find out more about the custom homes at Briar Chapel, plan on taking our decompression drive from the old world into the new soon. You can reach the Custom Builder Representative Gian Hasbrock, MIRM, MCSP, CGP, CRS at 919-969-1617 or email gian@advantagenewhomes.com for the information you need to decide if Briar Chapel is a good fit for you right now.