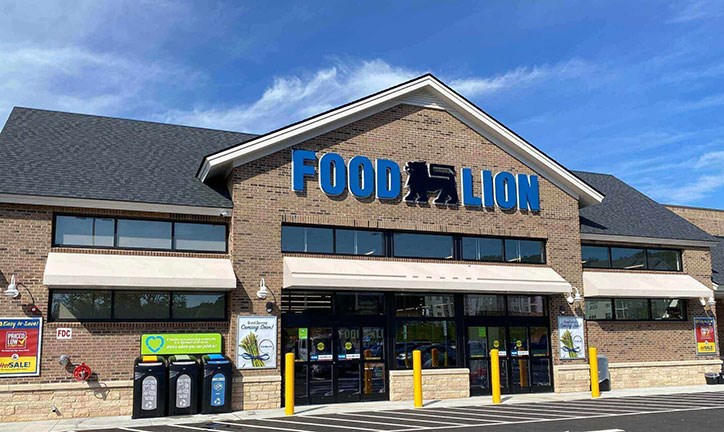 Food Lion at Briar Chapel is now open!
We are so excited to announce that the Food Lion at Briar Chapel is officially open!
The new Food Lion is located at 70 Ballentrae Ct. and is part of The District, an exciting new venture that will offer even more conveniences to the residents of Briar Chapel and the surrounding area. In addition to Food Lion, The District will offer planned apartments, senior living, a college, restaurants, medical facilities and more.
The store has a spacious design with a variety of groceries and fresh house-made choices, including a huge produce area, affordable "feed the family" options, baked goods made fresh in store, catering options, fresh sushi, tons of grab & go items and a hot bar with wings, apps, Asian cuisine and more.
Healthy food options 
Food Lion is committed to offering healthier food options through Partnership for a Healthier America, the largest pledge to increase healthier food sales and transparency from a grocery store in the United States.  As part of this commitment, Food Lion carries products rated by Guiding Stars, a proprietary nutrition guidance system that supports customers in making the best nutrition choices for themselves and has its own affordable organic brand, Nature's Promise.
Supporting the community
Food Lion supports local businesses and farms through fresh local produce from Cottle Farms in Faison, fresh local bakery items and craft beers from the local area, such as Pittsboro brewery Carolina Brewery.
As part of the new store's grand opening, Food Lion donated 30,000 meals to a local church through the retailer's hunger-relief initiative, Food Lion Feeds. With this donation, Food Lion Feeds has donated more than 970 million meals to neighbors since 2014. Food Lion Feeds aims to donate one billion more meals by 2025.
Sustainability
"Food Lion is a perfect fit for the residents of Briar Chapel, who have always embraced the community's focus on sustainability," said Tanya Matzen, vice president, operations, Brookfield Properties. "Our residents will be able to enjoy Food Lion's own brand of coffee, cocoa, tea, seafood and soy products which are 100% sustainably sourced."
Food Lion has set goals to be 100% sustainably certified in its palm oil, pulp and paper products and packaging, to offer a 100% cage-free shell egg assortment and for all Food Lion's plastic packaging to be 100% reusable, recyclable or compostable plastic by 2025.
Curbside pick-up
Food Lion customers can also order groceries online from any device for delivery or pick-up. The Food Lion at Briar Chapel also multiple spots for curbside pick-up so residents can easily grab their groceries on the way home.
We are excited to welcome Food Lion to the community and to see The District coming together. Food Lion is now open 7 a.m. – 11 p.m. everyday. Stop by and check it out!
Located in Chapel Hill, North Carolina, Briar Chapel offers new homes from the $400,000s. Explore Briar Chapel's resort-style amenities, parks, trails, shopping and on-site schools, a community that has been named Best Neighborhood in Chapel Hill for seven years running!