The Secrets of Briar Chapel's Art
By design, Briar Chapel reflects the rich artistic heritage of Chatham County. In addition to preserved topography and wildlife habitats, Briar Chapel holds a treasure trove of vibrant artwork. Stroll the trails. Walk the parks. Drive along the roads, and you'll find a stunning vista of commissioned pieces at every turn.
What secrets does this collection hold? Whose creative ingenuity fashioned these Briar Chapel cornerstones?
Curated for Briar Chapel
Briar Chapel's art collection reflects a collaboration between North Carolina craftsmen and internationally acclaimed artists. Our artwork encompasses a breadth of styles, from intimately scaled pieces to grand community structures. Artists featured a wide range of materials, including stone, ceramics, metal, wood, glass and even plants to create a breathtaking tapestry across Briar Chapel.
Inspired by the drive into The Biltmore Estate, Briar Chapel's one-mile entry drive offers a rich milieu of textures, flora and artwork, an invitation to decompress and drink in the serenity of nature.
Here's what the community holds!
Briar Chapel Art Collection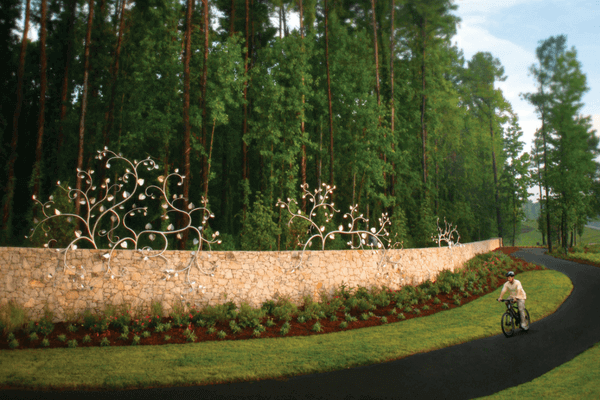 The Ramble Bramble: The entrance drive into the community begins the narrative with Greensboro artist, Jim Gallucci. He created the "Ramble Bramble" out of stainless steel placed on a wall of stones procured from the site. Notably, Ramble Bramble taps into Jim's hallmark use of gates, welcoming guests to Briar Chapel. As Jim says, "I use the format of gates and doors in my sculpture in order to give the public access to my art. This interaction is an 'entry' for the public to embrace art." Jim also designed a 62-foot-wide gate at Exploris, a school in downtown Raleigh.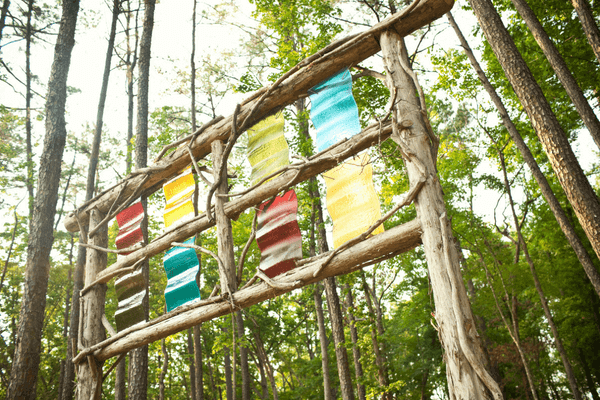 The Trail Head: This magnificent structure, marking the entrance to Briar Chapel's 24-mile trail system, stemmed from a collaboration of two North Carolina artisans. Designer Luke Burrows created the Trail Head's cedar woodwork frame, while Pittsboro artist Leslie Fersperman crafted the vibrantly colored glass panes within the trailhead.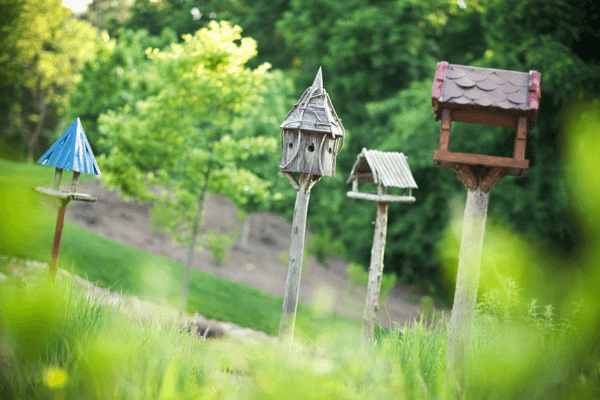 Bird Houses: Designed by Luke Burrows, Briar Chapel's collection of hand-crafted birdhouses not only offers a pop of color but also provides a home to our winged creatures.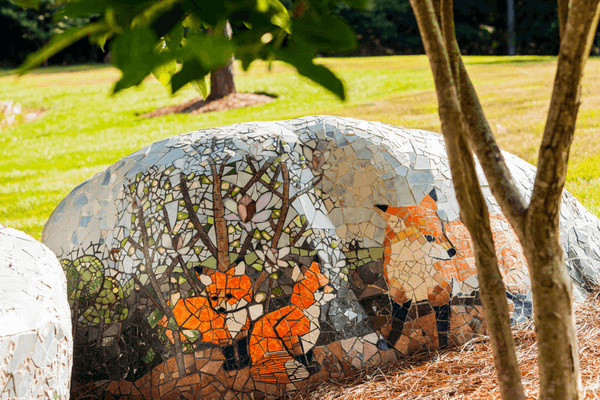 Ceramic Mosaics: Keep your eyes peeled for two boulders touting a ceramic mosaic! Crafted by mastermind Erik Davis, the mosaic tiles overlay each boulder to reflect images of North Carolina wildlife, a fox and an owl.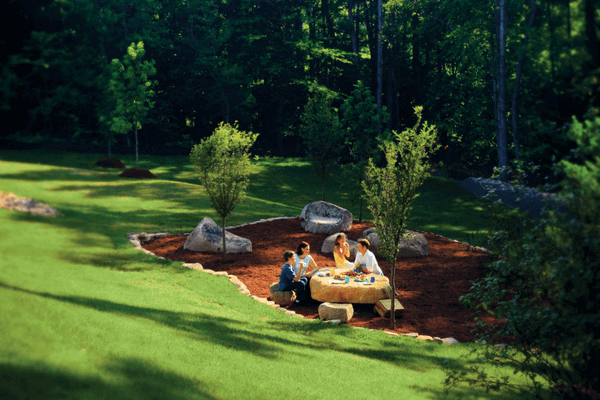 Boulder Picnic Table: Stroll through Briar Chapel's lush open spaces to discover a boulder collection artfully repurposed as a picnic table. With its commitment to sustainability, Briar Chapel used a plethora reclaimed and repurposed materials to build the community.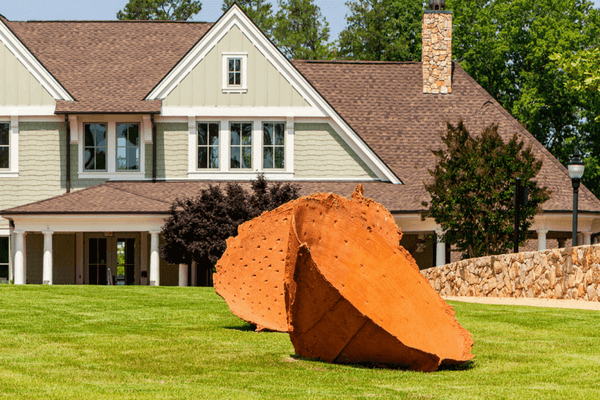 Earth Castings: The entry drive culminates with five large Earth Castings designed by Thomas Sayre. Landscape architects created the composition within the traffic circle to frame Thomas' creations, highlighting the artwork with angled stone walls crafted from reclaimed indigenous stone. Thomas also received acclaim for designing The Shimmer Wall that flanks the Raleigh Convention Center in downtown Raleigh. The team at Briar Chapel also commissioned Siglinda Scarpa to create a series of landscape scaled pottery as focal points within the community.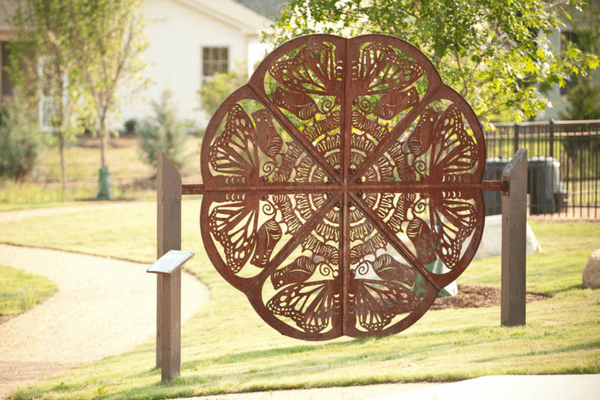 Metamorphosis: Nestled in one 42 parks, this metal sculpture by Grace Cathy reflects the likeness of a butterfly, paying homage to the rich ecological wildlife in Briar Chapel.
Other notable structures within Briar Chapel?
Visit the historic tobacco and preserved cemetery that serve as the backdrop to Great Meadow Park. Discover Constellation Park, which – true to its name – sports landscape in the shape of the major constellations. Uncover treasures in the "excavation site" in Discovery Park, or hold a family play date on the playgrounds at Great Meadow Park.
Want to explore this outdoor museum for yourself? Sign up for our Resident for a Day program!